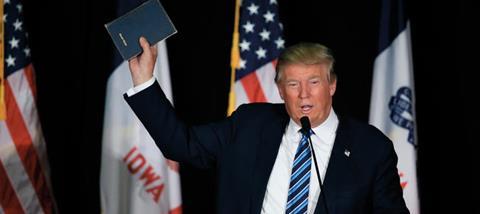 Trump's suggestion that Muslims be temporarily banned from entering the USA generated widespread criticism. However, Franklin Graham, head of the Billy Graham Evangelistic Association, founded by his father, agreed with the policy. Trump has also received an endorsement from prominent evangelical Jerry Falwell Jr.
Polls in February appeared to indicate a groundswell of support from evangelical voters for the controversial candidate. Trump identifies as a Presbyterian and recently released a video where he can be seen holding a Bible and saying, 'I really appreciate the support given to me by the evangelicals. Every poll says how well I'm doing with them. My mother gave me this Bible many years ago...I want to thank the evangelicals. I will never let you down.'
The businessman also recently said he has a 'great relationship with God'. But Trump's Christian credentials have been met with scepticism from many leading evangelicals in the USA, including the head of the Southern Baptist Ethics and Religious Liberty Commission, Russell Moore.
In an opinion piece for The New York Times, Moore said it was 'illogical' for evangelicals to support Trump. He cited, among other things, Trump's divorces, pro-abortion stance and 'lack of a moral compass' as serious causes for concern. Albert Mohler, president of the Southern Baptist Theological Seminary has also been critical of Trump and said it's 'disappointing' to see him treated as 'a serious man'.
Responding to a question about whether he asks God for forgiveness, Trump said: 'I like to be good. I don't like to have to ask for forgiveness… And I am good; I don't do a lot of things that are bad.'
When asked by Bloomberg's With All Due Respect TV show what his favourite Bible verse was, he refused to answer, leading some to speculate he couldn't remember any. Trump's critics also couldn't help but smile when the candidate attended church in February, only to hear a sermon on the importance of welcoming Mexican immigrants and Syrian refugees.
Jonathan Merritt, senior columnist for Religion News Service, believes there is a growing divide between evangelicals in the pew and their leaders. Writing in The Atlantic, Merritt explains, 'Among ordinary evangelicals, as many as 37% say they support Trump – more than any other candidate. But when you just survey evangelical leaders, the numbers differ dramatically.'
If this analysis is correct, then most high-ranking evangelical leaders would have celebrated in early February when Ted Cruz beat Trump in the Iowa caucus. Could Trump's failure in Iowa be the beginning of the end?
The evangelical vote is still important in the USA. But its relevance has waned since the 1980s when the Moral Majority was credited with securing Republican victories. Most commentators agree that when it comes to today's politics (and Donald Trump), there is now more diversity amongst American evangelicals than ever before.