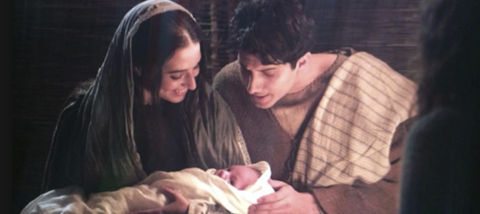 How do you know Christmas has arrived?
For many people the answer is "when I see the Coca-Cola lorry on TV" or "when the John Lewis ad comes out".
Videos like these which often go viral on social media have long inspired evangelist Glen Scrivener. He's made a variety of short shareable videos with a Christian message for Halloween, Remembrance Sunday and of course Christmas.
Last year's festive offering 'He Came Down' reached over 400,000 people and received endorsements from public figures, actors and the Archbishop of Canterbury.
But for 2017, Glen has pushed everything up a notch.
Having raised £18,000 Glen has been able to team up with professional filmmakers, including an Oscar shortlisted director and a producer who worked on the Resident Evil films.
The team – most of whom would not call themselves Christians - are spending this week in a North London mansion worth £6m. They are there to shoot four Christmas films which will be released online from the end of November through to Christmas.
Having been invited onto the set, Premier Christianity can confirm the films feature an impressive, talented cast.
Too many details on the plot might spoil your enjoyment. So for now let's just say this is 'Meet the Parents meets the Nativity' – an entertaining yet thought provoking comedy series full of magic realism and an axe-wielding father in law. Each of the four main characters encounter Christ in a life changing way – yes even the slightly scary Dad.
Speaking on set to Premier Christianity, Glen has high hopes for the films: "With such a build up, if we're not reaching squillions I'll be gutted."
His mood might be summed up as 'nervous excitement'. In the midst of freezing temperatures as the crew shoot a scene at the bottom of the garden, Glen tweets prayer requests from his phone - "The most vital scenes are going to be filmed in the next 2 hours. Please pray for a content baby and for the gospel to shine."
Scripting videos which go viral is not easy. But it must take an equally large effort for Glen to stand back and let the crew bring his vision to life.
"As a writer you like to have creative control," Glen admits, before quipping, "but maybe I'm wrong on some things?! It's possible!"
"They know how to bring something to the screen that I have no idea about."
Explaining the project is designed to redeem the cultural format of viral Christmas adverts, Glen says he wants to make films which make people think about the true Christmas story, rather than the idea they need a new toaster.
Production crew member Matt Bailey adds, "If people are watching these films and expecting the full four points of the gospel they aren't going to get those. But they will get films that resonate with everyone. You identify with the characters and think 'I'm like that'. And there's more to life and more to Christmas than perhaps what we normally experience.
"Glen is wanting to go for high quality because I think often there's an association in people's minds – it's not very good, it must be Christian. Therefore by doing stuff that's high quality, people aren't distracted by poor quality they're hopefully wowed by good quality stuff and therefore can focus on the message that's being put across."
The first of Glen Scrivener's four Christmas videos will be released on Monday 27th November. If you want to be the first to see it, 'Like' the Speak Life Facebook page now
Click here to request a free copy of Premier Christianity magazine