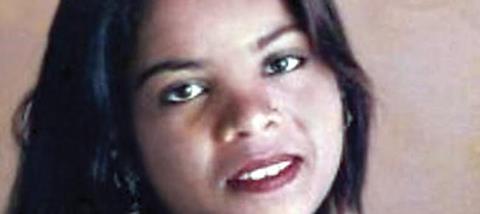 How is Asia Bibi doing ahead of the trial?
She has been behind bars for eleven and a half years. She has not seen the sun and moon this year. She's totally innocent.
She has four children and a husband who are living in a hidden, protected place. Now her case is in the final hearing.
She is very very strong in her faith. I visit her every month. She has said I will remain faithful to Jesus Christ. And she has remained faithful.
There is not only Asia Bibi. There are so many other cases. I humbly request that you pray. Please pray for her and the other people – not just Christians but Muslims behind bars in these cases.
Is it going to take a miracle for her to be let off?
There is nothing in this case. She never disgraced any holy prophet. She is a very poor lady and is not educated. There is no evidence against her.
I believe she will be acquitted. But after that we have to do something for her family. This is a very high profile case. It will be very difficult for her to stay there. If she is acquitted who will be responsible for these years [she's been in prison]?
If she is acquitted will she have to leave the country?
Many things I can't say. But there is a very good hope for her. I've met many influential people but I cannot say as it's a very high profile case. But I am worried and she must be in safe hands.
If she is acquitted, will it help or hinder Christians in Pakistan?
I do not know what will happen for other people. There will be reaction. No one wants the mockery in the courts.
Because this is the final court in Pakistan, we must all accept the final ruling. They [the government of Pakistan] do not [realise] what the reaction will be of the world if they do something against the minorities.
She's facing the death sentence, but historically those who have received that sentence haven't always been killed. So is there hope there?
There are only two ways, one is death punishment. The other is acquittal.
This is the last stage. The procedure is any person who is not acquitted by the Supreme Court is hanged.
But please hope for the best and pray. I have a very firm faith and strong faith she will be acquitted.
What's the one thing as we head up to the trial that we should be praying for?
We must strongly pray to God for acquittal and also for safety and security after that. And there are so many other cases pending.
Pray for her and pray for me as well. Anything can happen to me. But I'm willing to pay the price and I'm carrying the cross. Many times I have been assaulted but I am continuing. I don't feel any fear, I have faith in God. I believe they can kill my body but not my soul or my dreams.
I believe when you pray with faith God listens.
For the latest news on Asia Bibi's case, visit premier.org.uk/news
Click here to request a free copy of Premier Christianity magazine