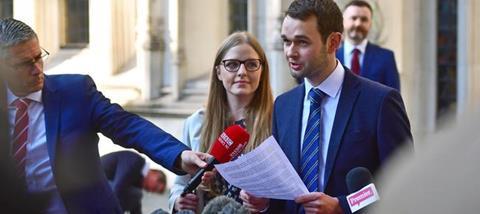 The Christian couple at the centre of the Ashers 'gay cake' case today won their appeal over a finding that they had discriminated against a customer by refusing to make a cake with a slogan 'support gay marriage'.
Five justices at the Supreme Court voted unanimously in favour of the Ashers bakery, ruling that the owners' objection was to the message, not to the man.
It's a brilliant outcome. Had the McArthur family lost, the implications for free speech, religious belief and freedom of expression would have been terrible. The Supreme Court has today distinguished between a sincerely held religious conviction and discrimination. I'm quite sure this verdict will be cited for years to come as a vital moment in the defence of free speech. If it had gone the other way it would have set a dangerous precedent.
Today's judgement is likely the final part of a journey that's been ongoing for more than four years. It all began on May 9, 2014 when Gareth Lee placed an order at the Ashers Baking Company on Belfast's Royal Avenue.
He requested a cake be made bearing the slogan "Support gay marriage". After initially accepting the order, on reflection, the McArthurs felt it contradicted their own belief that marriage is only between a man and a woman. They contacted Mr Lee and offered him a full refund.
In June 2014, the Equality Commission in Northern Ireland took the bakery to court. They argued that Mr Lee had been the victim of discrimination and made to feel like a lesser person because his order was refused.
The case was taken up by The Christian Institute, and from the very beginning they argued that the issue was with the message on the cake and not with the customer.
The first court hearing was at Belfast County Court in March 2015. District Judge Isobel Brownlie ruled in favour of the Northern Ireland Equality Commission saying at the time that Ashers had discriminated against Mr Lee on three grounds: sexual orientation, religious belief and political opinion.
In October 2016 the bakery lost an appeal they had launched earlier that year so, in May 2017, five justices from the UK Supreme Court went to Belfast to hear the case.
Finally, after years of fighting, the case has likely reached its end point. Justice has been comprehensively delivered.
Lady Hale, the President of the Supreme Court said there was no discrimination on the grounds of sexual orientation. There was no discrimination on the grounds of religious beliefs. There was no discrimination on the grounds of political opinion. In other words, the McArthurs have been completely exonerated.
I think it's utter madness that the case ever went this far. The McArthurs never had any issue with Mr Lee personally. But as Bible-believing-Christians, they did not and could not agree with the message on the cake they were asked to create. After the astonishing concerns that the Supreme Court raised about the impartiality of the Equality Commission in Northern Ireland, it would be inconceivable if there were not resignations.
Today's outcome is a win for family run businesses and for everyone across society who values the right to freely hold and express their views. It means Christians, Muslims, those of other faiths and those of no faith will not be forced to accept compelled speech. In a free, democratic and pluralist society, no-one should be forced to use their creative skills to promote or celebrate messages totally at odds with their own convictions.
In a free society, no-one should be forced to use their creative skills to promote messages at odds with their own convictions
What a witness Daniel and Amy McArthur have been to the power of the gospel and to the grace of God.
They have shown patience, persistence and clear sincerity of belief that has been refreshing to see. Even today, outside the court, Mr McArthur was openly and sincerely Christian in his remarks. He said: "I want to start by thanking God. He has been with us during the challenges of the last four years. Through the Bible and the support of Christians, he has comforted us and sustained us. He is our rock and his ways are just." He also said that Mr Lee was welcome in any Ashers bakery again in the future. I hope for all of them, they can now move on with their lives.
Taking on this case would have been financially risky for The Christian Institute. But they grasped the importance of this case. The amount of work they have put in, advising, defending and supporting Ashers should not go unnoticed. God has used them to good effect.
Many prayers have gone up about this case. Many more should be offered today in thanks to God for hearing and answering. Today's ruling protects freedom of speech and freedom of conscience. That's something we should be very grateful for.
James Mildred is communications manager at CARE (Christian Action Research and Education). He also co-hosts the regular Holy Political Podcast.
SPECIAL: Subscribe to Premier Christianity magazine for HALF PRICE (limited offer)