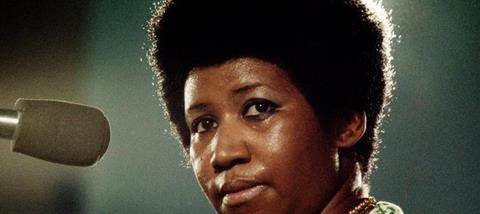 This film tells the story behind the bestselling gospel album of all time: Aretha Franklin's Amazing Grace. The raw, never-before-seen footage documents the two days in 1972 when 'The Queen of Soul' visited the New Temple Missionary Baptist Church in Los Angeles to record her most popular album to date.
It's an intimate picture of one of the greatest artists of all time. The daughter of a Baptist minister, Franklin comes across as shy, reserved and deeply spiritual. At one point she appears to be overcome while singing praises to Jesus. Amazing Grace is a fascinating record of American music and social history, replete with the achingly cool 1970s aesthetic of flairs, afros and giant collars. Franklin lived through the American civil rights movement and was a key supporter of groups fighting for equality. We see flickers of this wider context at moments, such as when the Rev James Cleveland declares: "Never did we think 20 years ago that God would do great things for us."
This 87-minute production is predominantly a concert film, and is split into two parts – night 1 and night 2 of recording. Part 1 ends with a breathtaking rendition of 'Amazing grace', during which Rev Cleveland is so overcome by emotion that he breaks down crying, unable to continue the piano accompaniment. The congregation go wild. It's all the more poignant when you consider the origins of the song: ex-slave trader turned Anglican minister, John Newton, originally wrote 'Amazing grace' to describe his conversion story.
Part 2 begins with the 'Mary, don't you weep'. Lead singer of the Rolling Stones, Mick Jagger, who was in Los Angeles at the time to record Exile on Main St., can be seen dancing at the back of the church. A particularly moving scene involves her father, CL Franklin, who addresses the congregation about his daughter, who clearly adores him. He explains how Aretha would practise singing gospel songs in their front room from a young age. In no uncertain terms he sets the record straight for those questioning her motives and fame on a public stage, saying frankly: "She never left church."
This film will appeal to die-hard Aretha Franklin fans as well as music aficionados. It's undoubtedly a fascinating behind-the-scenes insight into a one-of-a-kind talent – and the footage has lain dormant for 47 years! But what's lacking is the overall narrative. Clips of Franklin singing interspersed with interviews that revealed more of her character and background would have greatly improved this film.
Although it may not have mass appeal don't underestimate the evangelistic power of Amazing Grace. It's an authentic, moving and raw portrayal of a worshipping community full of heartfelt faith. It may well be an excellent movie to invite your nonbelieving friend to.
Amazing Grace will be shown in selected UK cinemas from 10 May
This review was originally published in the May issue of Premier Christianity. Get more articles covering news, culture, faith and apologetics direct to your letter box every month. Subscribe now