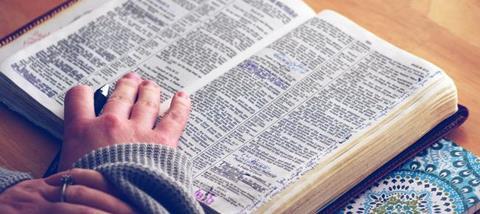 It's that time of year where many of us will be resolving to read the whole Bible next year. January is often fairly straightforward (Genesis is a relatively easy read) but I can't be the only one to have struggled upon reaching Leviticus and quickly fall behind the plan…
The good news is Jesus never said "In order to follow me, you must read the whole Bible in a year". While it's obviously a great thing to do, you could also argue the quality of our reading is more important than the quantity of it. So if you're daunted by the idea of reading the entire Bible in 2017, why not try studying just a few biblical books in depth instead?
Whatever your plan for 2017, there are more ways than ever to engage with Scripture. The following resources - most of them free - have played a huge part in helping me to engage with the Bible. I hope one or two of them are helpful for you, as we all look ahead to deepening our faith through reading and listening to God's Word in 2017.
1. Download the YouVersion Bible App
YouVersion (commonly referred to as 'The Bible App') is free, available on every platform imaginable - including iOS and Android - and contains over 1000 translations. What more do you want? Bible reading plans? It's got those. Space to make notes? Yep. A highlighter??? You bet. It does absolutely everything you'd ever want a Bible app to do...and more. So whether you're glancing at the verse of the day, or using the Bible study tools, this is a fantastic app.
2. Read Tim and Kathy Keller's devotional book: My Rock; My Refuge
Best known for his tour-de-force work of apologetics The Reason for God, the New York City based pastor Tim Keller has established himself as a leader who is willing to think deeply about hard questions. But My Rock; My Refuge reveals a different side to Keller's ministry. Together with his wife Kathy, Tim takes us on a devotional journey through the Psalms. This easy to follow plan is designed to be read over a one year period. Each day contains a reading from the Psalms, a paragraph of reflection and a short prayer. It's a great way to start each day – and doesn't require a huge investment of time.
3. Watch 'Look at the Book'
John Piper has dedicated his life to preaching and teaching the Bible. And while his interpretation of some passages has occasionally attracted criticism (Piper is a Calvinist and complementarian), his passion for the Word itself is undeniable. 'Look at the Book' is a relatively new video project which sees Piper tackle just a few verses at a time. With each of the short videos only displaying the text of the Bible and Piper's annotations, the focus is solely on understanding what the Bible is saying. Look at the Book combines deep exegesis with a clear and easy to grasp presentation. With new videos being produced all the time, this series is worth keeping an eye on throughout 2017. It's also a great resource to use in a small group setting and is totally free.
4. Read something other than the Bible!
There have been times in my faith where I've learned more about what the Bible says by reading about the Bible, rather than the biblical stories themselves. This may sound controversial, but stay with me. It's no secret that some of Jesus' sayings are hard to understand. Often the reason for this, is Jesus lived in a completely different context, time and place to me. Jesus' first followers understood this Jewish Rabbi's many illusions to Old Testament passages and references to the culture of the day. But I as a white Westerner am completely removed from this Middle Eastern cultural context. The good news is that often, knowing just a little of this context can answer our questions and bring the Bible to life. I've been amazed at how whole passages of scripture which previously made little sense to me, now fit together. None of this demands heavy academic reading. Lois Tverberg's book Sitting at the feet of Rabbi Jesus is a fantastic place to begin. For something a little meatier (but still accessible) try Jesus Through Middle Eastern Eyes by Kenneth E. Bailey. For Old Testament background, see Thomas Cahill's The Gift of the Jews.
5. Stop reading, start listening
If you're not a reader, why not try listening to the Bible instead? There are many advantages to this approach (for one thing you can smugly tell your friends "well, as Romans 10:17 says, faith does come by 'hearing'" not "reading".) The Bible in One Year project by HTB and Rev Nicky Gumbel has already been enjoyed by thousands of Christians across the world. And 2017 will see the launch of a brand new audio version of this resource. You could also try the popular podcast Daily Audio Bible. Finally, Premier Christian Radio is launching a new initiative to read through the whole Bible in a year on air. Details will be forthcoming on their website premierchristianradio.com.
Click here to request a free copy of Premier Christianity magazine