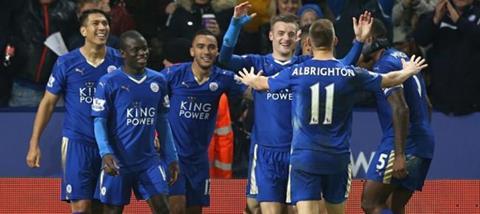 Last night, without even kicking a ball, Leicester City's Premier League title win was confirmed. It has been a fairy tale season for the Foxes and one that nobody (except the extremely optimistic) would have predicted.
This time eight years ago, Leicester were relegated to League One. This time last year, they had just avoided relegation. But today, they are Premier League champions in what has been a remarkable resurgence.
So how has this change occurred? The naysayers will cite the poor performances of those around them. Last year's champions Chelsea have under-performed, the superstars at City never really got going and Arsenal have, well, been Arsenal. But none of these are factors that have affected Leicester's performances week-in, week-out. They have only lost three times this season (the least in the division), and won 22 times (the most in the division).
Their title win has clearly been well deserved. Leicester have been resilient, they have persevered, but above all, they have shown great team work to achieve the unthinkable. They haven't shown any complacency, or an over reliance on the few, but as a collective they have all stepped up. As Christians we can learn something from this.
1. We are one body
In 1 Corinthians 12 Paul speaks of those in Christ being one body, made up of many members. We are all required in order to help the body to function properly. But in our individual walks, sometimes we get complacent, content to leave things to be done by the larger, more prominent characters in the Church. Leicester are a lesson to us that if we all perform and do what is required of us, we can achieve great things as a body of believers.
2. We each have a role to play
The best examples of teamwork and everyone playing their role was in Leicester's last two fixtures. Jamie Vardy had brought much of Leicester's attacking threat this season. He has become one their biggest names, but due to receiving a red card, he was banned for their two most important games of the season.
Rather than feel sorry for themselves and wonder what they were going to do without one of their main men, Leicester were comfortable to call on another player to fulfil Vardy's role. They then won the next game against Swansea 4-0 and drew the following week with Manchester United 1-1, a result which in the end would ensure their place as Premier League Champions.
This is a position that we could perhaps find ourselves in. For one reason or another, we may be called to step up to fulfill a role that someone else has vacated. This may seem daunting, but it's important to remember that we are a body and if others are functioning, we should be able to rely on them to help us.
3. The whole is greater than the sum of its parts
Leicester have demonstrated this. This win is not about one or two players. It's about the whole team. As believers we must adopt this approach if we are to be effective for the kingdom.
It's long been said that in many churches 10% of people in Church do 90% of the work. This is not a recipe for success. Paul's vision of the Church was one where everyone has something to contribute (1 Corinthians 14:26). As each of us take responsibility for the areas where God has gifted us, we will press on to victory.
Click here to request a free copy of Premier Christianity magazine