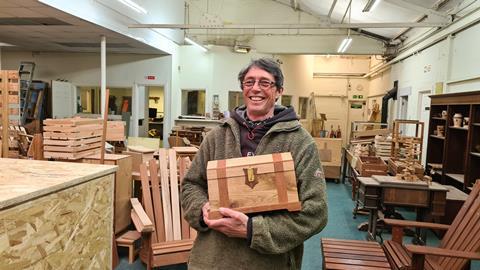 Hope Woodwork is a project of Kingdom Way Trust (KWT) in Eastbourne that uses training in woodwork to help unemployed adults back to work. KWT is a Christian charity focussed on provision of accommodation and support with the desire to facilitate sustainable solutions for people who really want to change. Motivated by faith, the Trust helps people to rebuild their lives with hope and purpose and seeks opportunities for them to consider personal issues of Christian faith.
"It's an incredible mission," said Ray Whitby, Hope Woodwork project manager, "and we are blessed with a decent sized warehouse, volunteer supervisors and a variety of equipment and tools."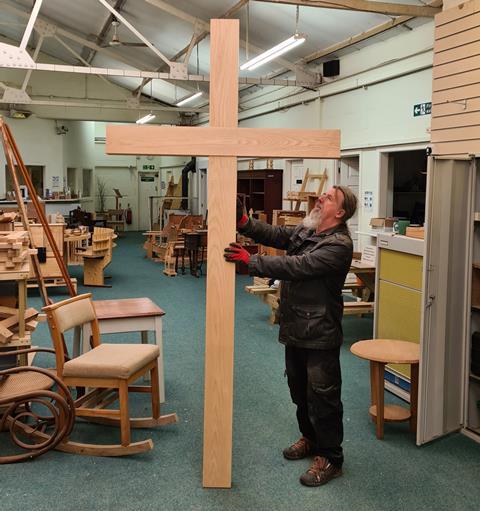 People referred to Hope Woodwork by various agencies start on the beginner's programme, which focusses on hand tools. They are guided through a variety of woodworking tasks at their pace, giving each person a chance to interact with others and for the supervisors to build a rapport. There is the opportunity to "graduate" onto the intermediate programme where they learn to use powered machines and have the chance to develop a broad cross section of skills for the workplace such as working in small teams and under supervision. They develop confidence and improve their communication and relational abilities.
"Any one of these aspects can be an enormous stepping-stone in their lives," Ray said. "For some it's a challenge to step through the front door, so we try to reduce the obstacles and to support each individual. One client came to us from 20 miles away twice a week. It took him 2 years before he could look you in the eye and ask a question".
Hope Woodwork raises income through making its own products, including garden furniture. These are mainly created from waste wood, which fulfils their desire to recycle, rebuild and restore. "This also reflects the ethos for helping each individual that comes to Hope Woodwork to be renewed and restored," said Roland Brown, KWT manager. "Several have moved on to employment quite quickly, whilst others may take a lot longer, but all have a positive lasting impression of their time with us."
Hope Woodwork also produces exceptional woodturned items, often incorporating different materials. These sought-after creations have been sold across the UK and Europe.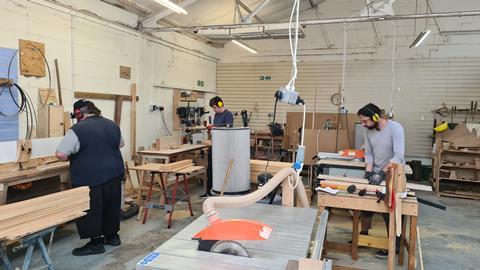 The project relies on volunteer supervisors, several of whom have experience in woodworking, but all have a passion for helping others and imparting woodworking skills as well as life knowledge.
Hope Woodwork is constantly looking for new supervisors, whether they have woodworking skills or not. Training is provided. Steve, a volunteer supervisor said, "The reason I volunteer is that it gives me the chance to help others and try and pass on some knowledge".
The key to a person attaining success is the environment in which they participate and so supervisors provide a listening ear and a lot of positive encouragement. There are many areas in which the Hope Woodwork project can be supported and their products are definitely worth a look.
They also offer beginner's woodworking and woodturning courses to the public.