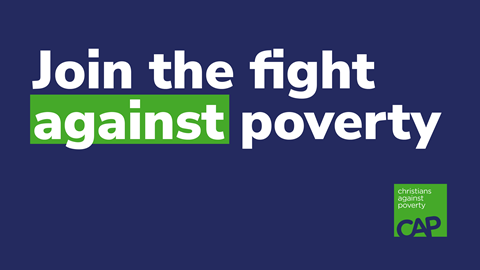 Most of us have seen costs go up over the last couple of years, whether it's soaring energy bills or higher prices in the supermarket. It's no surprise that the cost of living crisis is pushing more and more people in the UK into poverty.
Poverty in the UK is a very real problem. Right now, more than 14 million people in the UK are living in poverty.
At Christians Against Poverty, we've seen debt and poverty levels in this country get worse in recent years.
But numbers don't tell you the whole story. This is about people's lives. People like Mark, who couldn't afford a cooker in his kitchen, so had to try heating up his food using a bowl of warm water. We hear all the time of parents skipping meals so they can feed their children, of pensioners going without heating in the winter months, and of workers getting to the end of their long shift and having to go to the foodbank, because their wages don't cover basic living costs.
A Christian response to the cost of living crisis
Our faith means we cannot stand by and let this happen. Here at CAP, we're not prepared to accept this situation as normal.
This is why we work with churches across the UK, equipping them with the tools and expertise they need to help people in their local communities. From debt counselling to finding work, from budgeting advice to practical life skills, we have 27 years' experience in seeing people set free from debt and poverty.

What can I do?
The Church is perfectly placed to support those struggling financially. Because we know it's not all about the money. Poverty is ruthless, and brings with it stress, anxiety, and isolation. So our church partners make sure there's friendship and emotional support available for any CAP service user who needs to talk to someone compassionate. Time and time again, we get to see the amazing way this practical care changes lives for the better.
'The budget CAP set for me gave me a plan of attack for managing my money in the future. Now instead of spiralling down, I'm spiralling up!' – Pete, outdoor enthusiast and debt free with CAP's help
The Church needs to keep on being a place of warm welcome for anyone coming in from the cold, and we will see even more lives transformed.
It's easy to feel daunted by the scale of the problem, but the truth is that ordinary people like you and me can make a huge difference. The CAP family is made up of a wide range of wonderful people, from the volunteer befrienders to our financial supporters, from those who campaign and sign petitions to those who pray for lives to be changed. If you'd like to join the fight against poverty, you can be sure there's a way for you to get involved. And you'll be joining a committed team of people who are determined to take a stand against the injustice of poverty.
To find out more about CAP's work and how you can be a part of fighting back against UK poverty, go to capuk.org/premier