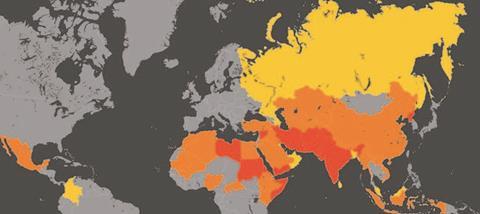 It's not a fashionable subject, but finally the persecution of Christians around the world is beginning to get the attention it deserves.
The publication of an independent review into the Foreign Office's response to the issue is the latest evidence of this.
At the official launch of the report at Church House, Westminster on Monday, the UK's Special Envoy on Freedom of Religion or Belief, Tariq Ahmad, an Ahmadi Muslim, said that freedom for one religious group was freedom for all. A Yazidi survivor of abuse at the hands of the Islamic State gave a moving testimony, recounting some of the horrors she had experienced - including her father being killed right in front of her eyes.
Andrew Copson, of Humanists UK, was among the few afforded the opportunity to ask a question to Lord Ahmad and the Bishop of Truro, whose team produced the report. He repeated the criticism that came when Jeremy Hunt called for the report last December: that it was wrong to focus on only one religious group. Would it not be better to focus more broadly at the issue at large, which affects members of many different faith groups - including those of no faith?
But while it is perfectly understandable and laudable to seek to give a voice to each of these groups, the reality is that it is the voice of persecuted Christians that is often overlooked in the public sphere.
It was telling that so much time was given over to defending the need for the report, and ensuring that other voices - such as the Yazidis, Ahmadi Muslims and atheists - were also heard.
This all felt rather symptomatic of a group - Christians in general, but especially Western Christians - that feels uncomfortable blowing its own trumpet, or speaking out on behalf of its own cause.
But the reality is that persecuted Christians, while still not fashionable, need their voices heard now as much as ever. And while the atrocities of ISIS are, mercifully, behind us and therefore the issue receives far fewer column inches, the report estimates that Christians are on the receiving end in as many as 80% of all cases of persecution on religious grounds. (The above map from Open Doors shows the nations where persecution of Christians is at its worst)
Whether it is ISIS in Syria and Iraq, Christian villagers being massacred in their hundreds by Fulani herdsmen in Nigeria, or the state-led mass arrests of converts to Christianity in Iran, for Christians in many countries there is a story of injustice or repression to tell. And it is one that isn't being told nearly enough.
On a recent visit to Turkey to meet some of the Iranian converts who have fled persecution, I reflected that I was in a privileged position to be the one who gets to hear and tell their stories. But along with the honour I felt, there was also a sense of bewilderment that, in their case at least, it seemed it was only me who'd heard it.
Where were the other international agencies doing their bit to fight the cause for Christians?
One Iranian who has been seeking asylum with his wife and their now eight-year-old son for the last six years, without success, reflected that he was aware of a lot of support being given to Baha'is and the LGBT community in Iran, but it seemed like nobody was speaking up for Christians.
Having worked in the sector for half a dozen years now, I am aware that there are a great many individuals and groups doing their best to be that voice for persecuted Christians, but hearing this man's perspective was a reminder that, before I joined World Watch Monitor in 2013, I knew little about what was happening to Christians in other countries. And it feels as though this remains the case for many Western Christians today.
Perhaps it's just that we find the subject too uncomfortable. After all, how can we marry the two realities - of our extreme comfort, and their often desperate plight - and not be made to feel intensely uncomfortable?
But just because we feel uncomfortable, this does not mean we should, like the priest in the story of the Good Samaritan, continue to walk by on the other side of the road. Now is the time to confront the discomfort head on and react to it in whatever way we feel called. For some, perhaps that will simply be an awakening and call to prayer. For others, it's time to become a voice for the persecuted. To ensure that in the years to come, Christians such as my Iranian friend will know there are many people working for them - as many as for the other persecuted groups.
Steve Dew-Jones is News Director at Article18, an advocacy organisation working on behalf of Iran's persecuted Christians. He was previously Senior Editor at World Watch Monitor.