Drawing on the book of Daniel, Jeff Lucas shares a lesson about unconditional faith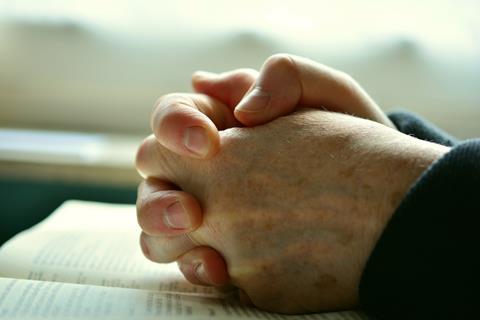 We gathered to pray in a Zoom room, an 'upper zoom', as we tagged it. A dear friend was battling the dreaded virus and the prognosis wasn't good. The prayers were insistent and intense, appropriate in the harrowing circumstances. Then the tone shifted, as one tearful soul, overwhelmed with grief, started to insist rather than intercede.
"God, I won't take no for an answer on this one. You'd better do something. We won't take anything less than total healing."
As the prayer continued, the sense of demand and ultimatum heightened. I feared that if the prayers weren't responded to as requested, then this fervent chap was ready to throw in the towel of faith for good.
I was reminded of the old and possibly apocryphal story of the lad who wanted God to give him a bike. Stealing a statue of the virgin Mary, and hiding it under his bed, he prayed: "God, I want a bike. So, if you ever want to see your mother again…"
Some encourage a Rambo-like 'faith' approach as they sniff at those who say: "if it is your will" when they bring their requests to God. But surely that's the prayer that Jesus offered in Gethsemane. Pleading for the cup of suffering to be taken away, nevertheless Jesus submitted himself to the Father's will.
When we turn to the story of Daniel's friends, Shadrach, Meshach and Abednego, we see faith that refused to gamble on a specific outcome.
The awful furnace stood ready for those who refused to worship a 30-metre-high image of the king. The three lads stood firm, their unwavering response incredible. Respectfully, but very firmly, they refused to bow the knee. They testified to God's power, insisting that he could certainly rescue them.
They then made one of the most remarkable statements to be found in scripture: "If we are thrown into the blazing furnace, the God we serve is able to deliver us…But even if he does not, we want you to know, Your Majesty, that we will not serve your gods or worship the image of gold you have set up" (Daniel 3:17-18).
Their faith was unconditional. Their attitude was not: "Lord, if you protect me, provide for me, and shield me from the nastier bits of life, then I'm up for the journey." It was: "God, though you're seemingly silent, though trial and sickness come, though grief and sadness continue… we will trust you, and walk with you faithfully…even through the flames."
The determined statement of the Hebrew three can help us when we are praying for healing, and, indeed, for anything. God is able, but even if he does not answer us in the way we want him to, we will not surrender to doubt or complacency. True faith trusts God, whatever the outcome.
We Christians get very excited when God intervenes in an amazing way, and rightly so. We throw the spotlight on those who have experienced miracles, and it's good to celebrate with them. But consider too the unnoticed, weary, faithful chap who steers his way through life wheelchair-bound. Or the young mum who dreads Mothering Sunday, because her child didn't survive the traumatic birth. Then there's that successful entrepreneur whose business crumbled under the weight of Covid. All these know the awful heat of the flames, yet continue to believe in the mightiness of God, even though their experiences don't bear witness to that power. Surely they, like the Hebrew three, are heroes all.

Jeff Lucas is an international speaker, broadcaster, bestselling author and monthly columnist for Premier Christianity. He is a teaching pastor at Timberline Church in Fort Collins, Colorado and writes daily Bible notes "Life with Lucas". Hear him every Sunday at 8pm on Premier Christian Radio or download the Lucas on Life podcast
View full Profile