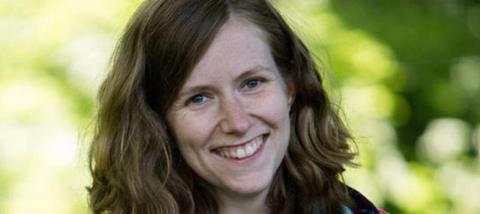 Zoe Powell's life has impacted thousands of people for the Kingdom of God. This gentle mama-of-four lived for Jesus in so many ways, sharing his life both directly with those she knew, and with many others who enjoyed and purchased her work.
From writing encouragements and creating literature-inspired art in Zoeprose, to her heart for mamas and supporting the mental health of those with young children in The Mama Book, along with setting up Our Creative Isle to highlight and promote UK creatives, Zoe's gentle spirit has impacted so many lives around the UK.
I was supposed to be recording a podcast interview with Zoe today. Instead, I'm writing a tribute to her incredible life. Zoe has been a dear and treasured friend and part of our creative community since early 2016. She was the 10th artist to join the Cheerfully Given community, she exhibited at our first pop-up shop, and I have exchanged many emails and video calls with her over the years, supporting through the trials and celebrating the joys of running a creative business.
She is dearly loved by our community and widely celebrated as "one of the most encouraging people I have ever met" by so many who knew her.
Nicknamed the "queen of watercolour flowers", her heart for creativity and encouraging others along with her love of watercolour and literature are shown in the various projects she has worked on over the years.
In her own words, "I love stories, and I also love how all of our lives and the Bible point to the biggest and best story of God's redemption...My hope is that through God's word we can remember both the significance of our own stories and of his story for us and others."
Cath Sales said, "I loved how she pursued her passions and pointed people to Jesus in such a gentle and beautiful way. Her love for classic children's literature and her heart to support new mums were also both so wonderful. She will be so missed."
Her heart for Jesus and encouraging people to look to him shines out of her work. The number of new babies who have come into the world with her scripture cards being read out, the number of mamas who have drawn closer to Jesus because of her gorgeous devotionals, the number of homes where Zoe's art graces the walls with reminders of our heavenly bridegroom, the number of lives she has impacted with her creative vision and heart for Christ.
Rachel bought some of Zoe's cards for her friend during lockdown. After hearing the news, she went downstairs to see a card through her door and shared with us, "Zoe is still touching people's lives now that she is now with her father in glory."
Zoe kept her creative business going through baby loss, poorly children, sleepless nights, holidays and through having three children under 3. She came to a creative business retreat when she was 8-months pregnant, and when she, along with her family, experienced a serious house fire in July 2020, she only closed her shop for a couple of weeks until they were settled in temporary accommodation.
In the words of Ruth Young, "She was such a thankful person, but also not afraid to say that life in a broken world is hard."
When asked in 2018, "What are your hopes and dreams for the future?" Zoe replied, "I just want to be able to continue being creative and being obedient to what God is calling me to do with that. Whether that is pursuing writing more, teaching somehow, creating more intricate collections of bigger weaves, growing The Mama Book to reach more mamas or something else I haven't thought of yet, I'm excited to see what he has in store."
Zoe's entire life was about sharing Jesus and making him known, and we pray that in her death, people would see her faithfulness and look to him. Zoe and her precious children are with him awaiting resurrection life, and while our hearts break at this tragedy, we pray that you will know the hope Zoe had in life and is experiencing in death.
Zoe was gentle, articulate, strong, quiet, resilient, artistic. But more than any of that, she is a faithful child of the King. We praise Jesus for her.
One of Zoe's favourite Bible verses was Psalm 27:4 - "One thing have I asked of the Lord, that will I seek after: that I may dwell in the house of the Lord all the days of my life, to gaze upon the beauty of the Lord and to enquire in his temple."
Menekse Stewart is the founder of Cheerfully Given. To view a gallery of Zoe's work visit cheerfullygiven.com/zoe. A JustGiving page has also been set up in her memory