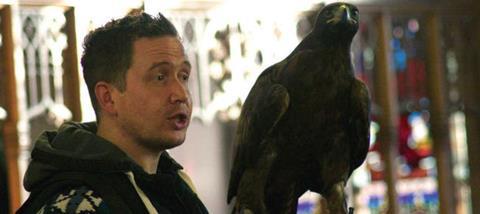 Bracken the golden eagle provided the perfect illustration of how God heals and restores when he visited the Fun-Key outreach service in Richmond, North Yorkshire last month (February).
Eighty adults and children packed St Mary's Church as Bracken's owner Mike Coles read from Isaiah 40, 28-31 and told how he'd rescued the eagle from a hard and restrictive life.
Fun-Key Church co-ordinator Gillian Lunn said, 'We heard how Bracken was broken and wounded and how over a long period of time came to trust Mike and after 18 months learned to fly again.
'Mike paralleled this with us and God, and how if you trust God, like Bracken came to trust Mike, over time, you will gradually become more like what God would wish for us. Like Bracken you can learn how to fly and soar again, and with God's help, like an eagle, learn how to soar above storms of life.'
'Mike didn't suggest it would always be easy nor happy in the way you might expect but that God was there for us all the time in our journeys.'
The all-age service consisted of prayers, songs and activities including origami eagles, eagle bookmarks, constructing the lent cross, a round the church bird hunt, and the chance to look at look at old eagle annuals.
'There was also a chance to enjoy a warm drink and cakes provided by our Mothers Union, and meet Bracken and Mike up close,' said Lunn.
'It was a busy, yet calm and safe place for people of some or no church experiences to come. We had a lot of new faces.'
Lunn added, 'We are very relaxed and this is proving to be a very popular approach. People left with a gift of Easter chocolate with bird images on to link in with the eagle service and as a nod to our Fun-Key does Easter service.'
Fun-Key's aim is to be a worship service providing fun, faith and fellowship for all ages. So far two young people have been baptised at the service.