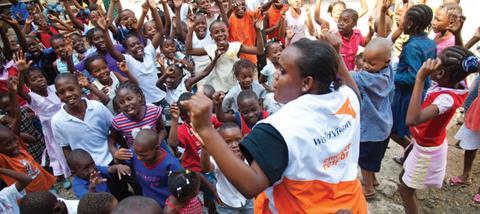 Israel's internal security agency, Shin Bet, says Mohammed elHalabi was arrested for establishing a 'systematic and sophisticated mechanism' to divert 60% of World Vision's budget to Hamas, which rules the Gaza Strip and has been blamed for rocket attacks on Israel.
Israel says World Vision's aid money was used to purchase weapons, construct military installations and fund the salaries of high-profile Hamas officials. El-Halabi is said to have undergone Hamas military training in the early 2000s before being 'planted' into World Vision in 2005, where he climbed the ranks to become director of the Gaza branch. He is also accused of recruiting a Palestinian aid worker from Save The Children to join Hamas' military wing.
Responding to the allegations, World Vision said it subscribes to the 'humanitarian principles of impartiality and neutrality and therefore rejects any involvement in any political, military or terrorist activities'.
The statement continued: 'World Vision has detailed procedures and control mechanisms in place to ensure that the funds entrusted to us are spent in accordance with applicable legal requirements and in ways that do not fuel conflict but rather contribute to peace.
'World Vision programs in Gaza have been subject to regular internal and independent audits, independent evaluations, and a broad range of internal controls aimed at ensuring that assets reach their intended beneficiaries and are used in compliance with applicable laws and donor requirements.
'Based on the information available to us at this time, we have no reason to believe that the allegations are true. We will carefully review any evidence presented to us and will take appropriate actions based on that evidence.'
Chief executive of World Vision in Australia, Tim Costello, later elaborated that, in his view, the figures do not add up.
'What we know is our total operating budget in Gaza for the past 10 years was approximately $22.5 million, and yet the figures being circulated are up to $50 million has been diverted,' he told ABC.
In related news, Israel has arrested United Nations Development Program (UNDP) engineer Wahid al-Bursh, 38. Israel says al-Bursh has confessed to a number of charges, including using UNDP resources to build a jetty for Hamas naval forces.
UNDP responded by saying it has 'zero tolerance for wrongdoing' in all of its programmes and is 'greatly concerned' by the allegations.