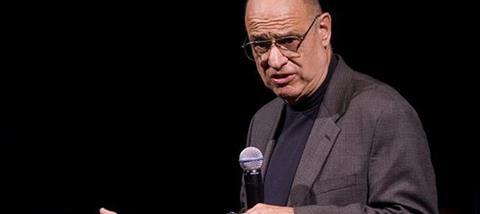 Tony Campolo is an intriguing and controversial figure. His views on marriage are well publicised and more recently he has been associated with the launch of "Red Letter Christianity" – placing greater weight on the words of Jesus (printed red in some Bibles) and less on the apostles' teaching and the rest of the Bible.
He claims that Christians have prioritised orthodox belief and theology over orthodox practice and have ignored Jesus' call for a life of radical discipleship. He has also dropped the evangelical label (a more politically-charged term in the USA than in the UK), but would nonetheless claim to be a Bible-believing Christian who derives all his views, including a recent change of heart on gay marriage, from his interpretation of scripture.
This week he is quoted by Premier calling for writers of modern worship songs to "rethink how they describe God's power". He wants them to get us singing more about the God who loved us so much that he makes himself vulnerable, because the gospel is about Jesus willingly giving up his power in order to express his love. He also says that God is not in control of all events, but that Satan rules the world and only in the future will Jesus be Lord of everything. He even cites the old hymn "Jesus shall reign" (future tense) in his defence.
It is always good to make sure that individual songs and the general balance of themes that we sing about are biblical. Sometimes our songs can emphasise individual experience over the corporate; they may make faulty or misleading theological statements; there can be a shortage of songs on certain subjects such as discipleship, marriage, heaven, social justice and suffering.
We do not worship a God who is contingent, limited in both strength and knowledge
Whether Campolo's particular critique of modern hymns is helpful is much less clear. It seems to spring from his belief that God is not in control. He says that scripture teaches Satan is the ruler of this age and the Church is in the process of winning a victory, as we change social institutions and bring them under the rule of Christ. I don't believe that this is an adequate way to apply Jesus' spectacular victory at the cross.
It is certainly true that some of our songs have what is called an "over-realised eschatology", meaning that they speak as if the victory over Satan and sin has been won and we already experience all the blessings of the new heavens and earth. It is also true that we should sing about the humility of Christ making himself nothing and taking the form of a slave (Philippians 2). And of course, there are challenges to our faith in terms of how God exercises his sovereign will in allowing the presence of sin and Satan in the world until Jesus returns.
But we do not worship a God who is contingent, limited in both strength and knowledge. We sing of one who is transcendent and supremely powerful, and it humbles and encourages our hearts. We sing and shout that nothing stands in his way; no-one and nothing can question the authority and goodness of his actions. Our God does reign!
Graham Nicholls is a minister at Christ Church Haywards Heath and Director of Affinity, which brings together evangelical agencies and individual Christians to work together to advance the cause of the gospel
Click here for a free sample copy of Premier Christianity magazine