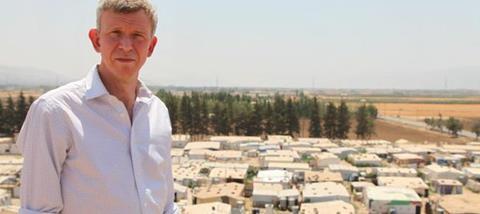 I'm standing in the Beqaa valley, a 15 minute drive from the Syrian border. Behind the range of mountains to my right, in Syria itself, a vicious war has been raging for more than five years.
The statistics are mind-numbing:
at least a quarter of a million dead (many more by some estimates)
more than half the population displaced
more than four million forced to flee the country.
Here in Lebanon, the population was four million in 2011 before the war in Syria. It's now more than five and a half million, swollen by desperate refugees pouring into Lebanon these last five years. That's the equivalent of the UK taking 20 million people.
We're visiting a tented settlement – apparently, that's the right phrase, as the Lebanese government does not allow formal refugee camps. Refugees are scattered all over Lebanon, but mostly in the Beqaa and in Beirut, some in tents like these, others in half-built houses, tiny one-room apartments, commercial buildings, all paying some degree of rent.
Tearfund's local partners are providing food distributions to Muslim families in the settlement we're visiting, a large pack of food and other vital supplies which will provide enough for an extended family for a month. Despite the heat and the stress, our partners treat every family with great respect and dignity; this is about relationships, and the team greet families by name, talking with them as they supply their needs. And then we're invited into the camp to meet people. I listen to heartbreaking stories, astonished both by what people have suffered and by their courage and resilience.
Ali and his wife invite us into their home, a tiny tent that somehow houses nine people. He tells us how they were forced to flee their village near Aleppo as rockets began to fall on the village. In the chaos of gunfire and explosions as they tried to escape, their seven year old daughter was killed.
Ali was a farmer in Syria. Here in Lebanon, refugees cannot legally work, and as they arrived in Lebanon they heard that their home had been destroyed. He and his family have lost everything, yet they welcome us with great hospitality, offering us Coke that the family have somehow gone out to buy as we have been talking. He tells us how the partner treats them with respect and kindness, looking after them, and how our partner even asks for the family's feedback on the contents of the food pack. He says he has little hope, "my children will have no future", and asks us to pray for him, and so we pray for him in that difficult place.
One thing unites every refugee we speak with – they all ask us to pray for peace
Down the road in the town of Zahle, we spend time with a pastor. A remarkable man, he founded his church in 2003 with seven people, and had 60 members when the war started and refugees started coming. They reached out with unconditional love, prioritising extreme need – families with no fathers, those missed by the UN, refugees of all backgrounds, but mostly Muslim.
Working with Tearfund partners, this small church provides food, education and items to help families survive the freezing winters, like blankets and fuel. It may be 40C in the summer, but it snows here in winter. The church has a school on site and three more in the camps. It also now has three separate services to minister to the numbers attending, including an entire congregation of Syrian refugees - people simply responding to unconditional love of the local church.
There are so many tragic stories – the facts behind the statistics. During our time in Lebanon, we speak to a Christian man who was kidnapped, tortured and whose family paid a ransom that cost them their business and everything else they had. We hear from a husband and wife who somehow escaped when many others died when their village was overrun by IS in northern Syria and who are in desperate need – five small children and the husband has had a stroke and cannot work. He also needs medicine, an impossible situation, and twelve people from the extended family are crowded into a tiny apartment.
And yet in all this there is hope. We visit a church in central Beirut providing food vouchers and counselling to refugees crammed into half-finished buildings around them. Despite all this pain, the church has grown from 80 to 300 over these five years, all from the refugee community. The church is now about to provide non-formal education and psychosocial counselling to 60 refugee children who have witnessed unspeakable horrors.
Despite all this pain, the church has grown from 80 to 300 over these five years, all from the refugee community.
Our colleagues estimate that 90% of the refugee children they meet have experienced some degree of trauma. And we meet an amazing priest, crossing the border between Lebanon and Syria regularly and bringing together churches across the denominations to serve thousands of displaced people in Syria itself.
One thing unites every refugee we speak with – they all ask us to pray for peace. If peace comes, they will return, but until then, they will remain in Lebanon.
In human terms, the situation appears hopeless, but our God is a God of hope, and we seek his peace for the country of Syria. And we see how Christians bringing unconditional love and serving the neediest can bring light to even the darkest places.
Nigel Harris is the chief executive of Tearfund
Click here to request a free copy of Premier Christianity magazine