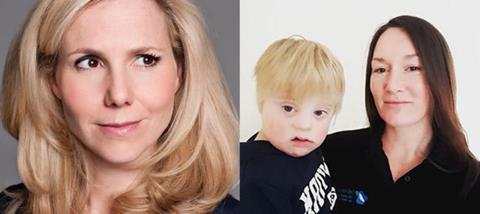 When my son Max was born with trisomy 21 (better known as Down's syndrome) I am ashamed to say I cried. I was afraid, scared for a future I thought would hold only negative outcomes for this tiny new life.
I thought his condition meant his life expectancy would be limited, he wouldn't be able to talk properly because he would have a learning disability and he would have to have a heart operation. I wondered whether he would ever find love or live independently.
I realise now that I was full of outdated misconceptions and stereotypes about trisomy 21. People with Down's syndrome can live into old age, speech problems are due to low muscle tone not learning development and there is nothing wrong with Max's heart, or the hearts of more than half of the people born with Down's syndrome. Plus many people live happy married lives independently.
I have learned a lot since having Max, but unfortunately, ignorance surrounding Down's syndrome is still widespread.
When I recently came across hate slogans about Down's syndrome printed on T-shirts being sold by one of the world's largest online platforms, Amazon, I was shocked and dismayed. How could something that was hurting people, causing offence and telling a minority group that they should not exist be openly available for sale? Slogans such as "Let's make Down syndrome extinct" or Down's syndrome: "Would not recommend" (see images below).
I was worried about what this would mean for my son in the future, not just if he saw these images, but if society started to think that these messages were acceptable. So I decided to start a petition calling on Amazon to remove products that insight hate speech.
Actress Sally Phillips, whose son Olly also has Down's syndrome, shared the petition, which led to media coverage and soon to thousands of signatures. We are now up to over 65,000.
I also penned a letter to Amazon calling for the company to change their policies around discrimination and improve their procedures for dealing with offending products.
Over 45 charities from England, Scotland, Wales, America, Iran, France, Canada and Australia have signed the letter. Amazon has responded by saying it has "escalated this to our Executive Team for further review and careful consideration".
The problem is that these products keep popping up on their site. Amazon take them down when asked, but then others appear sometimes just months later. And they're not just hateful messages about people with Down's; there are racist, sexist and ageist products for sale, too.
I'm prepared to keep fighting for the right of our children not to have to see hate speech against them sold on huge platforms and to live in an inclusive society where we all value one another as individuals. Will you join me?
You can sign the petition calling on Amazon to remove products inciting hate speech here.
Cristina Bowman is a mum and founder of DiffAbility CIC (Community interest Company), which is based in Cumbria
Premier Christianity is committed to publishing a variety of opinion pieces from across the UK Church. The views expressed here do not necessarily represent those of the publisher