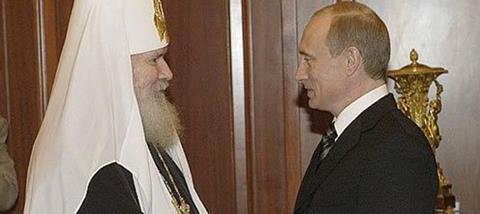 Unless you follow Christian news closely, you may have missed the big story about Russia this week. And I'm not talking about the ban on Olympic athletes travelling to the Rio Games. That's minor by comparison.
Yesterday, as Theresa May answered her first Prime Minister's Questions and we all basked in a sweltering summer's day, Russia made it illegal to share your faith anywhere, except in a registered church building. That's fine if you are a member of the Russian Orthodox Church but if you belong to one of Moscow's 1,000 house churches (not to mention those in other cities, towns and rural communities) the future looks bleak.
Soviet-style authoritarianism
Imagine I invite you round to my Christian home group and send a confirmation email. I will have broken the law – twice – and be subject to a fine of 50,000 roubles (about six weeks' wages). Talking about my beliefs in a public space will be deemed as illegal missionary activity. I am now, in the eyes of law, as much a threat to society as a terrorist!
Of course, it's early days and we must wait to see exactly how the law is implemented, but it seems the door has started to close on a 50-year respite in state control. It's possible that Russia is reverting to soviet-style authoritarianism once again.
Christians must ask how much freedom the non-Orthodox Church will enjoy, and for how long? And how much freedom will the Orthodox church have if it decides to stand up for its evangelical brothers and sisters? As we've seen in places like China and Eritrea, the 'official' church is often only allowed to continue if it poses no threat to the state.
The challenge
In one sense, all of this doesn't matter. As we know from history - the Church survived communism by going underground. And the church in Russia is tough; it doesn't just evangelise when the sun's shining. Nevertheless, how should we in the free West respond to this news?
The West sleeps and must be awakened to see the plight of the captive nations
Richard Wurmbrand, a Romanian pastor who spent 14 years in a communist prison and inspired the founding of Release International, wrote in Tortured for Christ: 'I tremble because of the sufferings of those persecuted in different lands. I tremble thinking about the eternal destiny of their torturers. I tremble for Western Christians who don't help their persecuted brethren. In the depth of my heart, I would like to keep the beauty of my own vineyard and not be involved in such a huge fight. I would like so much to be somewhere in quietness and rest. But it is not possible...The quietness and rest for which I long would be an escape from reality and dangerous for my soul...The West sleeps and must be awakened to see the plight of the captive nations.'
Those words were published in 1967. Almost 50 years on they speak to us again. They challenge us out of our pleasant lives of quietness and rest, just as they did for Western Christians back in the 1960s. What will we do to help our persecuted brothers and sisters?
Praying for Russia, and ourselves
A legal challenge to the Yarovaya laws is going to be taken to the Constitutional Court, while the Russian parliament's new deputies in September will be lobbied to try to get the law amended. We should pray for success for these initiatives. And we should pray for Christian brothers and sisters in Russia: that they are strong and united and, if they are forced underground, will continue to shine the truth of the gospel regardless of the consequences.
Finally, let's pray for ourselves. That we will be inspired to forsake the beauty of our own vineyards to join the fight. That we will be prepared to leave behind the quietness and rest of our Western and sometimes triumphalist and self-focused Christianity to stand with the persecuted and broken on the frontlines of faith, however and wherever that may be.
Tom Hardie is head of communications at Release International