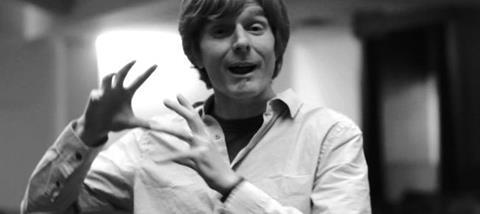 "I don't need no God…" Thom, "The World Poet", shouted.
I smiled, standing on a street corner in Austin, Texas on a sweaty summer night.
I'd been busking in the hope of drawing people closer to Jesus. But I'd just lost my voice! Now my atheist poet friend, Thom was helping me out by anti-evangelizing. "Perfect," I thought, smiling more.
I chugged a water bottle and downed pizza, my vocal capabilities revived. Once Thom's poem concluded, I launched into "Funk Infection", another of my "Spoken Groove" pieces. It starts with scatting. Then comes lots of funky white boy dancing. Pretty soon people were clapping their hands with the chorus, blissfully shouting "get down with the funky sound!" The second verse happened to compare King David's dance moves to James Brown's...
Thom seized on the reference and fired off an anti-Bible rant for his next piece.
On we went, trading poems into the night. Me, the Christian. He, the atheist. I never preached. I just offered stories of hope and silly comedy. He denounced all religion at every opportunity.
We finished. The crowd applauded. Several thanked me. One man asked how I felt hearing howitzers launched at God.
"Shoot, I'm so glad he saved me when my voice went out," I grinned.
"Yeah, but didn't you want to shoot something back?"
"Didn't need to. Joy is way more attractive than invective. When they're side by side, it's easy to see the difference."
"I like that," he smiled.
"Besides," I continued. "If Jesus really is the Truth, I don't have to worry about proving it. That's all on Him."
He grinned wider. We talked more. No conversion. But a big dose of love received, instead of rejected.
It's sad seeing truth hurled like stones at passersby
Before Thom left, I hugged him, thanking him for performing, and rescuing me. He encouraged me back, loving my daring to perform poetry on the street corner with no stage or promotion. That was more than a decade ago. We're still friends.
So often Christians reduce their busking to street preaching, or an obvious evangelistic message. It's sad seeing truth hurled like stones at passersby. What about the truth that God meets us with mercy in our most broken state? What about the Messiah having 'more joy than all His companions?' What about the time when He washed the disciples feet, just because they were dirty?
See for yourself. I challenge you to find the people in the Bible that Jesus preached angrily at. I see way more compassion than correction. The only people who got the fire were religious leaders who thought they were more right than anyone else.
I've busked on the streets of Austin, New York City, Edinburgh, lots of English streets... I've prayed for witches, agnostics, atheists and Christians (backslidden, nominal and passionate). I may have been mocked for my crazy, funky white boy dancing. But I've never been mocked for loving Jesus.
Real busking is entertainment that people like. And everyone loves being served and encouraged, whether they believe they need a God, or not.
Peter Nevland is a poet and performer SpokenGroove.com
To receive a free copy of Premier Christianity magazine click here