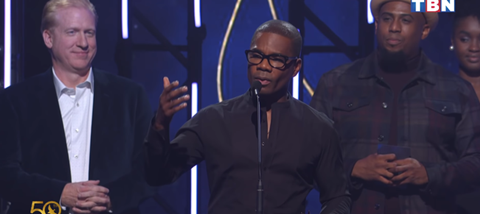 When Kirk Franklin received the award for best Gospel Artist in 2016, he spoke movingly and from a place of love, humility and empathy as he led the audience in prayer for racial healing and called for a shift in understanding. His words came at a time when the news was saturated with the murders of black people at the hands of law enforcement.
But Kirk Franklin's prayer was cut short during the live airing. Franklin raised his concerns at the time - with both the Dove Awards Committee and TBN. Dove assured him this was an error and it would not happen again. TBN remained silent.
Fast forward three years, and Franklin has announced that "history has repeated itself". During the airing of the 2019 awards ceremony just last week, Franklin prayed for the families of Atatiana Jefferson and the family of the policeman who had shot her in her home. Incredibly, this prayer was also cut short by TBN.
TBN may have had advertising commitments to fulfil. But when you're a Christian organisation with an opportunity to offer a moment of comfort to the broken…Are you saving souls or saving coins? Thankfully Franklin's comments are can be heard online. But for those who were watching live and hoping to hear some words of comfort, they were left with nothing.
Now, Franklin has said he will not attend or support any events affiliated to Dove Awards, the Gospel Music Association or TBN.
TBN says its mission is to use every available means to reach as many individuals and families as possible with the life-changing Gospel of Jesus Christ. But during the Dove awards TBN failed to live up to its mission statement.
Gospel music originated on the plantation as a coping mechanism for disenfranchised Africans. So if the Winner of Best Gospel Artist has a prayer to share, that prayer is bound to be coming from a place of necessity and communal healing.
Franklin's calling was silenced not once but twice. Those prayers were his attempts to share the Gospel and fulfil our duty as human beings to call out injustice and not remain silent.
TBN are not accountable for the death of any of those Franklin wanted to pray for. They are accountable for how they choose to live up to their mission statement. Kirk was true to his words and has remained true. His statement not only let the families know that he did have them in his mind, but also that there are forces at play even in the Lord's house.
In situations like this people often turn to the Bible and ask 'What Would Jesus Do?'. According to my recollection, when Jesus entered the Temple and saw that there was gambling happening in the place of worship he went into a rage and kicked over the tables. I am not advising anybody to run into TBN headquarters and start kicking over tables. But we should hold them accountable for disrupting something as sacred as prayer.
Dare Dairo is a writer and contributor to the podcast and social enterprise Dope Black Dads, a collective of black dads based in London, New York and South Africa who seek to provide a progressive discussion around the male parenting experience. This blog first appeared on premiersgospel.org.uk and is used with permission
Read TBN's statement responding to this story
Get more articles covering news, culture, faith and apologetics in every print issue of Premier Christianity magazine. Subscribe now
Premier Christianity is committed to publishing a variety of opinion pieces from across the UK Church. The views expressed on our blog do not necessarily represent those of the publisher.