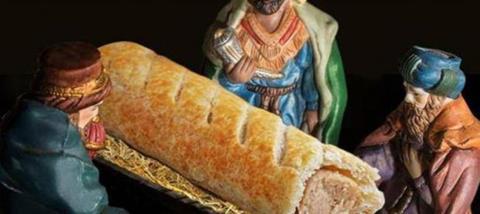 It's a sure sign we're full speed into the Christmas run up: a company launches a misconceived advertising campaign and the media reports that Christians are outraged by it.
Greggs are the culprit this year. Their 'Merry Greggsmas' advent calendar has been advertised with an image of a sausage roll replacing Jesus in the manger.
This follows attempts from the media and retailers to concoct outrage among Christians. Apparently some people are offended that Tesco's advert depicted people of other faiths enjoying Christmas (I'm yet to find anyone outraged at that suggestion).
Tesco do have form in religiously illiterate advertising. At Easter they ran adverts with the line: "Great offers on beer and cider. Good Friday just got better." That's crass, as is a sausage role in manger, but I'm not outraged by it.
I've actually got a bit tired by this news cycle that crops up each year. Admittedly I might have helped fuel the latest cycle when I decided to comment on the Greggs advert yesterday. After receiving my response, the BBC reported we at the Evangelical Alliance were "not too outraged" by it, whereas The Guardian took the same quote and decided that we had "strongly criticised the baker" (not what we were seeking to do).
We need to step back from the outrage cycle
A couple of years ago, Mulberry released an advert which showed Mary and Joseph opening a present. It was a handbag. Should we have been offended? Surely free speech means that we can cope with people disagreeing with us, poking fun at what we believe, or even crassly using religious symbols for commercial gain?
But I do think we need to step back from the outrage cycle and take note of a few things.
First, if we're expecting corporations to do our job of telling people the Christmas story, we're going to be disappointed. This is our job as followers of Jesus to talk about the meaning of his birth, life, death and resurrection. Christmas is the time when many people get closest to the Christian story, it's our job to share it with them.
Second, we should be encouraged that there is sufficient understanding of the Christian story that companies feel there is value in referencing it. It provides opportunities for us to turn the story around. A sausage roll may be good for lunch but as Jesus almost said: "Man cannot live on pastry based baked products alone."
Third, there seems to be a play book for this sort of thing, and it's getting easier to spot each year. There's a manufacturing of outrage for commercial gain. I would have known nothing about Gregg's advent calendars (retailing at £24 at selected stores from Monday 20 November), if this 'outrage' hadn't been created. Not only do businesses realise that (even mildly) controversial adverts often get the most attention, but journalists know that if they can get someone (anyone!) to call for a boycott, they can turn it into a news story. We need to be aware of this and not sing along to the marketeers' tune.
I may have disappointed the presenter on talkRADIO yesterday by not being outraged during our interview. But if they ask me onto the radio to talk about outrage and Christmas, I'm going to speak about just how outrageous it is that God sent his Son to earth in human form to live a perfect life and die a death he did not deserve. And how because of this we can each know forgiveness and freedom. That's the real story we should be shouting about.
Daniel Webster is advocacy and media manager for the Evangelical Alliance
Click here to request a free copy of Premier Christianity magazine