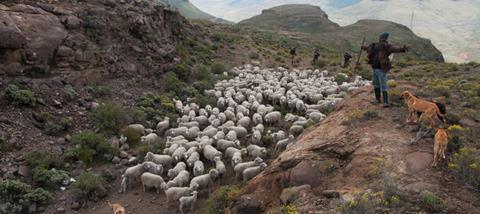 High in the hills of Lesotho shepherds tend their flocks, in the same way as the nativity shepherds. And just like them, the Lesotho shepherds are cut off from their communities, living lonely lives. God stepped into the lives of those Galilean men and through the angels led them to Jesus, but their modern day equivalents were still waiting for someone to share that all important good news.
The Lesotho shepherds needed someone to go to them and tell them the gospel. So in 2014, a team of us went.
I can't lie and pretend it was easy. It is a very harsh environment to live in. I don't think anyone would choose to live in those conditions if they didn't have to. The shepherd huts (motebongs) don't have a door, so it feels like you are sleeping outside. This was especially the case where I most recently stayed as there was a large hole in the thatched roof above me!
Some mornings I would wake up with a goat or sheep less than a foot from my face. Throw in the bed bugs, flea bites, and frequent mouse visitations, and it took a while to adjust to living and sleeping there.
The simplicity of the environment meant that I started to miss some of the comforts of our Western culture. But choosing to live a much more simple life also caused me to be more contemplative, and the removal of Western distraction immensely improved my prayer life.
If we hadn't lived with the shepherds in the same way as they lived, we would never have seen them come to Christ. We did (and do) have an option to live elsewhere, but the fact that we chose to live where no one else wanted to opened doors to sharing the gospel in a way that nothing else could.
When I graduated, I knew that God was calling me into mission. As a photographer and graphic designer I wasn't sure what that would look like. But in calling me to give up my comfort, God has given me the lasting joy of seeing young men, who otherwise would have had no chance to hear, responding to his gospel.
One of those young men is now sharing his faith with his friends. When Thabile became a Christian he realised that his family and friends were living in darkness too, that they needed to join him in entering into a relationship with God. There's still much for him to learn about God and his son, Jesus, but his desire is to follow his Good Shepherd and encourage those he knows to do the same.
There's still over a thousand people groups in Africa, just like the Lesotho shepherds, who have yet to hear about Jesus. Could you join me in giving up your comforts to share the gospel with them? We need people willing to go and share the gospel with people like Thabile. And we need those who can encourage, support and stand alongside new Christians as they venture into mission too. Our vision at Africa Inland Mission is to see Christ-centred churches among all African people, reaching out to their neighbours with the gospel and growing disciple-making disciples.
Mark Eekhoff is a missionary at Africa Inland Mission
For more information about how to get involved, visit 'Taste It' on 29th April at St Patrick's Church, Wallington. Sign up online at eu.aimint.org/tasteit
Click here to request a free copy of Premier Christianity magazine