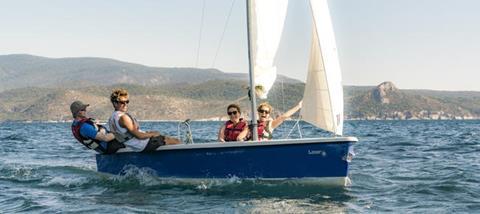 Sunshine makes you feel happy: Whether it's on a ski slope or a Mediterranean beach, research suggests that 10-15 minutes of sun a day increases the body's production of serotonin, the chemical linked with the feeling of happiness. Not only this, but sunshine also boosts your Vitamin D levels – helping you to have healthy teeth and bones!
Try out some exciting activities: Take the opportunity to go for a swim in the sea or a stroll along the beach - a welcome change from watching Netflix on the sofa! If you're feeling adventurous then why not try something like paragliding, scuba diving or white-water rafting!? Make sure to get a photo for an awesome new profile picture!
De-stress with a change of scenery: Dealing with stress can be a constant battle, putting you under mental and physical strain. Thankfully, research indicates that many factors of being on holiday – fresh air, freedom from work and the sound of the sea lapping the shore – are natural stress busters! It's great when the hardest decision to make is whether to have a second dessert or not!
But why choose a Christian holiday?
Time to invest in your relationship with God: You know how it goes, as busyness increases, prayer and time with God tend to be the things that we sacrifice. A Christian holiday puts you into a community of believers and away from your home routines. Instead of a rushed five minutes, spend time with God without time restrictions.
Join a culture of devotion and enjoy the rhythm of prayer and worship on a Christian holiday: I love being part of the prayer groups, evening times of worship and making the most of the peaceful holiday environment by spending time alone with God. Also, if there is something going on in your life that you have a particular concern over, on a Christian holiday, you can bring this to the pastor to chat and pray about.
Great fellowship whilst holidaying with a group of like-minded people: I've been on Christian holidays alone, with my family and as part of a group of friends and have always felt so welcomed into the friendly environment created by the Christian staff team. There's an immediate community feel which continues to grow over the holiday, especially during meal times where everyone chats and shares stories over a glass of wine.
I find the Christian fellowship, great Bible teaching, led prayer, praise and worship a huge encouragement in my faith. Don't delay - book your Christian holiday and experience it for yourself!
But don't just take my word for it, below are some testimonies from others who have also been on a Christian holiday:
Jonathan and Rosie, January 2017, Richmond Holidays ski resort in Three Valleys, France:
"I have genuinely never felt so loved, valued and cared for. The staff gave of themselves and more. Everyone worked as a team with high spirits and enthusiasm. This led to a superb atmosphere which made the holiday so enjoyable and memorable. Highly recommended. Also, the team in the UK office were superb, I really valued their helpfulness and clarity over the phone."
Anna, August 2017, Richmond Holidays summer resort in Samos, Greece:
"This has been one of the best holidays we have had. As a family, we haven't felt this relaxed in years. Lynne is such a wonderful manager and Trevor, who ran the ministry time, was such a blessing. They made it fun and relaxed - plus God's presence was strongly felt in that place. The team running all the activities made the holiday: they were all so personable and caring. It's the first time we have ever done a 2-week holiday and we were worried it may be too long - but we didn't want to leave yesterday!!"
Kym, May 2017, Israel Tour with Richmond Holidays
"We had an excellent guide, David, who was very dedicated to the group. The Tour Leaders, Eric and Helen, were so committed to ministry, scripture and always honouring Jesus, which made the experience of being in Israel very special. I would go again with the same guide and tour leaders. Thank you - all of you - at Richmond!"
Verity McKay from Richmond Holidays
Richmond Holidays is the leading provider of 'Quality Christian Holidays'. To find out more visit their website or contact them on 020 3004 2661.