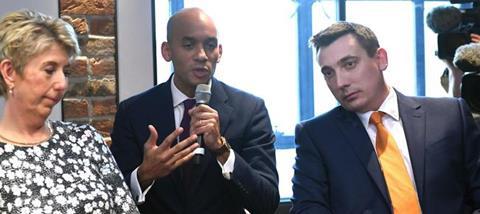 Yesterday seven MPs resigned from the Labour Party, citing what they consider to be a lack of integrity at a leadership level in the party.
Among them is Gavin Shuker (pictured, right). He's a Christian who, at the time of entering the political world, felt called by God to join the Labour Party.
He, along with many of his colleagues, are now changing their minds - not about being politically involved, but about being a part of a party. And I think they're right to do so.
Institutions in crisis
Throughout the Western World and across the United Kingdom many of our institutions are in crisis.
When the National Trust boasts six times more members than all the main political parties put together, our political system needs to ask itself some serious questions.
In recent years Christians in Politics and their three main stakeholder bodies, Conservative Christian Fellowship, Christians on the Left and the Liberal Democratic Christian Forum along with their main sponsor, the Bible Society have sought to build links to various church based events. The combined agency has a clear mission to "make the biblical case for participating in party politics" and "provide resources to equip Christians in their engagement with politics through the Christian organisations affiliated to the mainstream political parties".
The problem they have is many Christians, myself included, see political parties as part of the problem, not part of the solution.
Politicisation
After the General Election in 2010 the Coalition set out to establish Police and Crime Commissioners. At different times both the Conservative and Labour Parties argued for these elections to be limited to people who fell outside of traditional party politics because of a widespread view that policing should not become politicised.
I was one of around 100 people across the country who chose to take up the opportunity to participate in the elections as an independent candidate. Sometime later the two parties and some of their competitors chose to reverse their approach and participate as well.
Given that I was only able to spend 1% of the budget of the Conservative candidate who was duly elected, it's perhaps unsurprising I was not elected. However the experience awoke my interest in how politics that is not restricted to traditional party organisations could be of value to our society.
An unspoken option
A few months after the PCC election, I attended an event organised by Christians in Politics and as part of the session we were asked to discuss in small groups any of the barriers to involvement in politics experienced by members of our local churches. During the feedback session each table consistently stated that the political parties were a significant part of the problem! Because the speakers each represented one of the main three political parties, they recommended that we go back to our churches and reverse this position among our brothers and sisters.
Christian in Politics clearly have a mission to encourage Christians toward joining and supporting existing parties. But I want Christians to know there is another option. As the actions of Gavin Shuker and his colleagues demonstrate, you can make a difference in politics while remaining independent from the party system.
I believe that local worshipping communities would benefit from creating space for a wide range of public policy issues to be discussed away from the dominance of what each party argues for, and in a way that allows those present to ask questions of people who understand the subject matter.
These spaces could be part of an individual church or a group of local churches. They would enable people to explore issues that may in due course lead some to joining political parties once they have had a chance to consider their views on such matters and how these compare to party policies, and others to join pressure or campaign groups. Others may simply acquire understanding that assists them to participate in discussions at work or in their neighbourhoods or give them a level of understanding that strengthens their confidence to contact their local MPs or Councillors on specific subjects. The experts who are invited to speak to such groups could be locally based or in some cases invited to tour a number of settings. Perhaps in due course these groups could be linked to Christians in Politics as such discussions and debates are clearly a legitimate form of political involvement.
Ian Chisnall is a weekly columnist in the Brighton Argus newspaper and a daily blogger at ianchisnall.wordpress.com. He works for an Audio Visual Company in East Sussex and was previously coordinator of Hope 08 and County Ecumenical Officer for Churches Together in Sussex.
Enjoyed that? Get more articles covering news, culture, faith and apologetics in every print issue of Premier Christianity magazine. Subscribe now