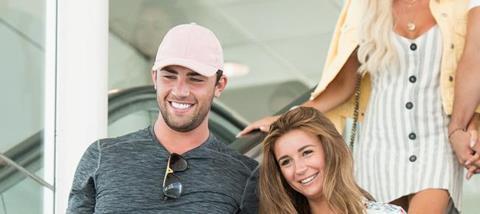 Jack and Dani broke a number of records as they marched to victory on Monday night's Love Island final. It was the most watched programme on a digital channel ever among 16-34 year olds. They won with the highest vote percentage of any series, securing just shy of 80 per cent of the vote. They are the first couple to win the show, now in its 4th series since the reboot, who have not had sex.
The nation's newest sweethearts spent eight weeks basically living together and wandering around in swimwear with a bunch of other people who were doing so many 'bits' (physical acts of intimacy) they formed an official group called, unimaginatively 'The Do Bits Society'.
Dani and Jack said "I love you" yet they didn't go any further than a kiss and a cuddle (a level 4 according to The Do Bits Society, if you're wondering). They were the most rock solid couple in the villa, together from day one with barely a hiccough, and were the couple every other one else compared themselves to.
It's almost as if sex is not the foundational element of a good relationship. That it is meant to express something from within a relationship rather than be the relationship.
This seemed to surprise Rosie who placed a deeper significance on her night with Adam than he did. Her understanding was that having sex acted as some kind of marker for them emotionally as a couple, and we watched her heart break on TV as she was ditched by Adam twelve hours later.
Laura's anger at Wes when he swapped her for Megan centred around the fact that they had also slept together. In a show where people know that partners "keep their options open", there seemed to be an expectation that having sex is a step of commitment.
This is a shift of the culture from 2017 when one of the contestants, Olivia, was very clear that "sex and love do not correlate." She said the physical act of having sex was not one that necessarily involves feelings. In other words she could have sex with one person and that wouldn't stop her telling someone else she was in love with them.
All sounds very dramatic, right? And very painful for lots of people involved - in this year's Love Island it happened to be the women who bore the brunt of this promiscuous behaviour.
This is what was interesting about Dani and Jack's relationship. Apart from the fact there was little drama, no head turning and no sex, they built a solid friendship alongside the romantic part of their relationship. They were still affectionate, physically and verbally. They listened to each other and laughed together. They supported each other, even when talking about difficult things, like past relationships and cheating.
In a moving scene, Jack slept outside of the villa during the Casa Amor stage (the part where couples are separated and encouraged to enter into new relationships with new men or women) as a show of his faithfulness to Dani.
After Love Island
After leaving the villa, Dani told the Sun newspaper: "My nan and gramps didn't have sex until they were married, I do not think sex keeps a relationship going."
A study published in the Journal of Social and Personal Relationships carried out by a team at Purdue University says exactly that. The most important factor in a successful and lasting relationship is the friendship - and this friendship leads to a more satisfying sex life.
Sound familiar? It is, it's biblical: "Love the Lord Your God with all your heart, mind, soul and strength, and love your neighbour as yourself" is Jesus' summary of how God wants us to live.
Love, with not just one element of your life but with all of your life. Love with your brain, your feelings, your spirit and your physical body. Grow each of those together. One will affect the other.
I believe God created sex to be great. That his desire is for people to have relationships that support really good, fun, enjoyable sex, within committed and monogamous marriage.
What we see from Love Island is the sexual element of a relationship developing at a much quicker rate than the other elements.
Megan was physically intimate with three men on the show, but really struggled to be emotionally intimate alongside that. When finally admitting her feelings for Wes, she said: "It pains me to be emotional and say how I feel."
Georgia was another Islander who "did bits" while never vocalising her feelings because of how vulnerable that made her. She too ended up heartbroken as the relationship crumbled. Intimacy is required on a number of levels and as Christians we have the answer to the question people are longing to hear - how to love?
We can tell them of the need to grow together and equally in every aspect of life. To commit to the action of loving each other even when things aren't feeling that loveydovey. To be vulnerable financially, emotionally, spiritually, as well as physically. And to build this intimacy on a foundation designed to last. Mike Pilavachi, one of the country's best known youth pastors, says "the primary expression of love is not sex, but sacrifice".
Now, more than ever we may have an audience willing to listen as they have seen with their own eyes, and believed with their hearts, in the commitment and abstinence of Jani (Jack and Dani – get with the programme!). In many ways they are the antithesis of what the show is all about. It promises glamour, drama and sex in the search for love. Dani and Jack offered none of these. Perhaps for the first time, it really was Love Island.
Alan Gault is youth and student pastor at The Lighthouse London (formerly Holy Trinity Swiss Cottage)
Click here to request a free copy of Premier Christianity magazine