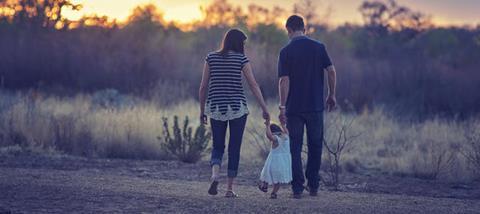 I know exactly where I was on 11th September 2001. I was walking around Harrow Wield in north London, with my expectant wife and two young children after an early morning swim, wondering why the streets were so uncannily quiet. I know where I stood when I discovered that planes had become bombs and skyscrapers had become rubble. I remember feeling the unreality of it all as Al-Qaeda sent a message to the world of their evil intent.
I know exactly where I was on 11th September 2006. I was waiting in a courtroom wearing my best suit, surrounded by my wife and three children and another little girl we had looked after since she was born. The judge made me feel nervous, but then he explained that he loved days like today. He was not sentencing criminals, but creating a family. I know where I stood when he declared that this foster child had become my daughter, our hopes had become legal reality. Through his pronouncement, the judge sent a message into our world of the grace of God.
Sing praises to God and to his name!
Sing loud praises to him who rides the clouds.
His name is the Lord – rejoice in his presence!
Father to the fatherless, defender of widows – this is God, whose dwelling is holy.
God places the lonely in families…(Psalm 68:4-6, NLT)
This adoption had happened almost accidentally. Our experience of caring for our own children, losing children through miscarriage and our desire to serve our community had developed over the years into a call to foster care. That had nearly not happened because of the many obstacles, and many times we wondered if we would get to the end of the process we had started. A few years later a senior social worker visited us with the express purpose of persuading us to adopt the girl we had been looking after. It was her belief that she was so damaged that her best chance was to stay with us. And so we found ourselves surprised by adoption
An absent doctrine
Adopting our fourth child was not only a surprise joy and privilege, it was also a surprise theology lesson like none other. At the time I was training ordinands for the Church of England based at one of the world's most famous universities, having completed my Masters and PhD. I had read hundreds of theology books and yet my grasp of theology was about to be totally rebooted, not from a textbook, or one of my gifted colleagues, but from the experience of adopting my daughter. Suddenly I began to see adoption in the Bible – not just in the odd verse, but on every page. Despite having a job that involved teaching the Bible in one form or another for my entire adult life, I had managed to miss the high priority God places on caring for the vulnerable, especially widows and orphans. Despite having preached chapter-by-chapter through Ephesians, Romans and Galatians, I had missed the treasured doctrine of adoption into God's family, only really focusing on rescue, forgiveness, atonement and redemption.
Slowly it began to dawn on me that every believer's story is one of adoption, and that every Christian is blessed by the incredible privileges that implies. I knew that God had liberated us from slavery to sin, but I hadn't comprehended that this was not the end of the story – he did that in order to adopt us. I knew that God forgives, justifies and redeems us, and I loved preaching and singing about those wonderful truths. But it was only when I became an adopted father that I understood he did all that so that we could be adopted into his family. It is through adoption we have the right to call God "Father", through adoption that we belong to God's family, through adoption that we are coheirs with Christ. Only Jesus is the Son of God by right, and he owns the heavens and the earth. Yet he does not hold on to this inheritance with a tight fist, instead he opens his arms to us and surrenders his hands to nails on a cross in order that we might share this inheritance with him. By grace we – though broken and sinful – are pronounced the children of God, forever in his family.
Suddenly I began to see adoption on every page of the bible
A couple of years ago I interviewed one of my theological heroes for this magazine, Dr JI Packer. In that meeting he explained to me how becoming an adopted father had helped him understand Paul's doctrine of adoption. Packer puts it like this: "Justification is the basic blessing, on which adoption is founded; adoption is the crowning blessing, to which justification clears the way." Why had I never seen this before in all my theological studies? It turns out I am not alone in missing this crucial theme of adoption that runs through our Bibles. A few hymns and worship choruses make passing reference to it, but otherwise this doctrine is mostly absent from our singing and our preaching, our evangelism and our theology training. It also makes me wonder – if we better understood this key doctrine, perhaps we would be more likely to put ourselves forward to adopt the children waiting in our care system.
My adoption story
Recently a teenager in our youth group became a Christian. "I've invited Jesus into my heart," she told our pre-school daughter over tea. Since adopting her, I've told our daughter that she grew in my heart, not my tummy. So later that night came the questions. "Mummy, is Jesus in your heart too?" "Yes darling." I replied. A little later she piped up, "Mummy, am I still in your heart?" "Always." Longer pause as she contemplated being in my heart with Jesus. "Mummy, do we like Jesus?"
We came to adoption after years of failed fertility treatment. It took a while to work through the pain and disappointment of not having birth children. More specifically, of not having our prayers for birth children answered. Then we adopted our small daughter. She arrived in our lives one snowy day in January. She was ours and a complete stranger at the same time. So we loved and we grew to love, and the hardest times became the means of us becoming a family.
This is still our story; working out together how to be a forever family. All the while, experiencing the redeeming love of our adoptive Father who reached out to us when we were lost in our pain, and drew us into his heart and home, for good.
Rachel Gardner is the president of Girl's Brigade, the founder of the Romance Academy and a trustee of Home for Good
There are 94,000 children currently in the care system
Homeless children
Having continued to foster after adopting, I am aware both of the significant calling for God's people to be involved in this ministry, and of the significant need for more foster carers and adopters.
There are 94,000 children currently in the care system in the UK, with 35,000 coming into care in any one year. Most of these children have experienced significant personal trauma, whether that is physical and sexual violence or emotional and physical neglect. It takes some pretty serious events for the state to decide that a child can no longer live with their birth families, and these events will likely scar and damage the children for years, perhaps for their whole childhood, maybe longer. A large percentage of the UK's homeless and prison population are young people who have aged out of care. A large number of sex workers are young people from the care system. Some of these stories could end so differently, if only the children could find a stable, loving and permanent family through adoption.
Home for Good is the charity some friends and I quit our jobs to launch three years ago. It exists for the very simple purpose of finding a home for every child in the UK who needs one. Not all of the children in the care system need adopting. But thousands do. Some are babies, but most are older. Many have siblings, many have additional needs, some are from black and minority ethnic backgrounds. Traditional adoptive parents are not looking for these kinds of children – they often enter adoption hoping for a child who is young, undamaged.
The story of Cornerstone
Pam Birtle explains how Britain's only Christian fostering and adoption agency came about
My son was born the day before my 15th birthday and, at that point, if you were a teenager your baby was put up for adoption; you didn't have any choice.
I left my ten-day-old son in the hospital and pretty much got on with life. Then, at school, the girl I sat next to got saved. She had a real experience of Jesus as a teenager and told me about a God I never knew. Later, in sixth form, I asked God what he wanted me to do; there was a rolodex with different careers and it landed on social work.
I applied to my local authority and found out you had to be 21 to be a social worker. I wasn't even 18, but they invited me for interview and ended up giving me a really rare post as a trainee. By the age of 21 I was the youngest qualified social worker in Britain.
God dropped fostering and adoption into my heart and my husband Trevor later felt I should stop being a social worker and start taking children into our home.
We also began meeting with a group of Christians from different denominations who had the same heart. We prayed together and eventually asked the Fostering Network how we could start our own agency. We sat down in my dining room, opened a bank account with £10, wrote the policies and procedures together and, on 1st January 1999, Cornerstone was born.
As Christians, there is a spirit of adoption on us all and I think that is very close to the Father's heart. We are looking to plant Cornerstone in various locations; what we need most is people who are passionate about social work and seeing Cornerstone in their area.
cornerstonenortheast.co.uk
Home for Good is asking Christians to consider adoption through a graceshaped lens. When God adopted us, it was not because he was childless, or wanted another child to complete his family. He did not have a checklist of essential characteristics. He was not interested in us because we were very young, physically perfect and had no emotional or psychological problems. God adopted us not because he needed us, but because we needed him. He saw us in our mess and trouble, and stepped in with grace and compassion to provide for us. It has been my privilege to meet Christians right across the UK who have been inspired by God's adopting love to adopt children themselves. I have met parents who were called to take in a child who may otherwise not have found a home – with learning difficulties, or delayed development. I have met parents who adopted three or four children at a time in order to enable siblings to stay together. I have met single parents, male and female, who have adopted, because they know that one parent is supremely better than no parents. And in all those cases, there may not be a fairy-tale ending, but there is certainly joy and blessing and happiness that has taken them – and their churches – by surprise.
Turning tragedy into goodness
Every 11th September, as the world remembers the twin towers coming crashing down, demolished by the fireball of planes turned into missiles, our family – now nine of us – reflects again on how God can turn tragedy into something good. The terrible circumstances that led to my daughter going into care at birth remain distressing. However, through God's grace, we are able to watch her beauty develop day by day, and she reminds us that just as we care for her and rejoice over her in all the ups and downs of life, so God cares for and rejoices over us as his children.
There are many other children waiting right now for an adoptive family. And so I would challenge you to consider joining this surprising movement of grace.
Krish Kandiah is the founding director of Home for Good (homeforgood.org.uk). He regularly speaks at larger conferences and corporate events and is a regular broadcaster on radio and television. He is the author of eleven books including Paradoxology and God is Stranger (Hodder & Stoughton). For more information visit his website: krishk.com