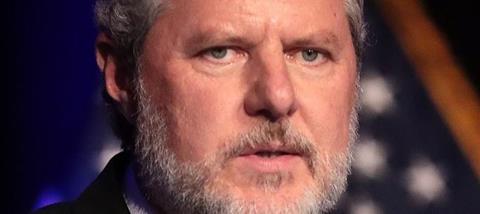 Even compared to the crash and burn of other high-profile evangelical leaders, such as televangelist Jim Bakker and Willow Creek's Bill Hybels, Jerry Falwell Jr's fall from grace has been quite epic.
In just over two weeks, Falwell Jr has gone from being one of the key players of the religious right in America and a friend and ally of Donald Trump, to having resigned as president of one of the world's largest Christian universities.
Liberty University was founded by Falwell's father in 1971. It has around 15,000 students on campus and 100,000 taking distance learning courses. The college is a powerhouse of conservative evangelical Christian views and values. Its student honour code is meticulously spelt out in a 23-page document called The Liberty Way, covering expected forms of behaviour which includes everything from academic honesty and integrity, to dress codes and stipulations about sexual conduct, including a prohibition on kissing, touching, men and women meeting in each other's rooms and, of course, having sex. Importantly, the code also prohibits consuming alcohol. This code of conduct is required both on and off campus, not only during term time but also on all breaks and holidays for the duration of the course of study.
Jerry Falwell Jr's recent exploits do not sit well against this sober backdrop. The most recent round of controversies began earlier this month when Falwell, 58, posted an image of himself with his arm around a young woman (see below). Both of them had their trousers unzipped and Falwell was holding what appeared to be a glass of wine. The woman in the photo explained that she was pregnant and that her shorts were undone because she could no longer do up the zipper and that Falwell had just been mimicking her predicament in a humorous act of solidarity.
Liberty University didn't see the funny side and although they didn't specifically reference the photo, they did ask Falwell to take an 'indefinite leave of absence', which he agreed to do.
If it was only one unwise post, Falwell might be expected to recover his position at the university and restore his dignity. But on Monday, Giancarlo Granda, 29, a former business partner of Falwell Jr's, revealed that he began a sexual relationship with Falwell's wife Becki, 53, when he was only 20, which involved Granda having sex with Becki, while Falwell watched. Falwell denies the accusations that he took part as a voyeur but Granda claims to have texts and other material to support his version of the story. Falwell admits Granda had an affair with his wife, which took an "emotional toll" on him when he discovered it, and the couple have since reconciled and moved forward. Falwell believes Granda is attempting to blackmail him by contacting the media with "false claims" about their relationship.
As if this were not enough, in June he posted – and then deleted – a tweet showing a person in black face and another wearing a Ku Klux Klan hood and robe. His apology did little to lower the temperature in a country already on fire following the brutal killing of George Floyd a month earlier. Photos of Jerry and Becki sharing platforms with President Donald Trump and Vice President Mike Pence in recent years only add to the sense of betrayal and shock that many feel at Liberty University and in the wider Christian community.
After the voyeurism allegations, Falwell agreed to resign. Hours later, he denied he'd resigned. Finally, Falwell confirmed to both ABC News and the Wall Street Journal that he had in fact resigned. It is now being reported that his severance package from Liberty could exceed $10m.
Jerry Falwell Jr's story echoes those of other leaders who have destroyed their ministries and careers by their own moral failings. While Falwell Jr may never have pretended to be perfect, he presided over a university that required exacting moral and ethical standards of its students, and it did so in the name of God. Falwell's disgrace not only shows him to be unwise, misguided and a moral hypocrite, it dishonours his faith and all he stood for.
As Christians, we should grieve rather than gloat over Falwell Jr's failings. As a fellow Christian, his fall is our fall, we share in his disgrace.
We should now ask ourselves in what ways do we collectively contribute to the conditions that help to create larger-than-life leaders, who are paid absurd amounts of money and given positions of great power and prestige?
Other religious leaders, such as the late Billy Graham, have shown that it is possible to retain one's integrity and not lose one's moral compass but it requires a vigilance and steadfast dedication to the only one who never sinned, and who showed himself to be 'gentle and humble of heart.'
Christina Rees CBE was born and raised in America, then moved to England when she met and married Chris. They have two daughters who are dual citizens. Christina is a writer, broadcaster, consultant and lay preacher. In 2015, she was made a Commander of the British Empire by the Queen for services to the Church of England.