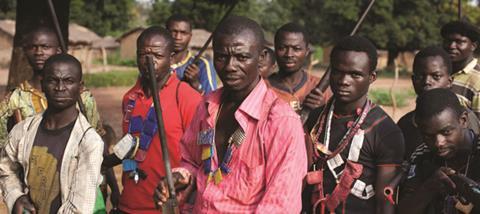 The World Evangelical Alliance (WEA) released a statement in March denouncing the media for saying it is a war between Christians and Muslims.
Under a succession of ineffectual leaders, during the last two years CAR has descended into chaos. Fighters from the dissolved Séléka rebel alliance, comprising mainly Muslims, mounted attacks on Christian communities, sparking violent counter-attacks from 'anti- Balaka' – literally, 'anti-machete' militias. Nearly 1 million people have fled their homes and many hundreds have been killed.
The WEA statement said it was 'deeply concerned' about the scale of the suffering, adding: 'However, [we are] also concerned that national and international media have incorrectly interpreted the root of the crisis in CAR as a religious conflict between Christians and Muslims, thus giving fuel to religious tensions in the country.'
'The conflict in the CAR is not a religiously motivated conflict,' said WEA secretary general Dr Geoff Tunnicliffe. 'The WEA is deeply troubled by the fact that some fighters now refer to their religion to justify their heinous crimes, dividing the country along religious lines.'
Church leaders issued a declaration recently saying that 'a military-political crisis has torn apart the social fabric of the country and has brought unimaginable pain, suffering, and sorrow to the people'.
However, the Bangui Declaration II from WEA says, 'We reiterate that all anti-Balaka are not Christians and all Christians are not anti- Balaka. It is the same for ex-Séléka and Muslims.' It concludes: 'This amalgam propagated by national and international media has given a religious connotation to a crisis that is in its core political and military.'
Churches and the Islamic Conference of CAR have been working together to stem the violence. Tunnicliffe said: 'We are encouraged by the bold position of the Church in the CAR, clearly distancing itself from the fighting factions. Rather than fuelling the conflict, religious leaders in the CAR call for restraint, peace, and reconciliation, leading by example.'
The secretary general of the United Nations has called for the addition of 3,000 peacekeepers to bolster the 6,000 African Union soldiers and 2,000 French troops already deployed in the country.
Joseph Kony, the leader of the terrorist militia the Lord's Resistance Army responsible for an estimated 100,000 deaths and 20,000 abductions, is thought to be in hiding in CAR and there are fears that he may be attempting to rebuild his power base.