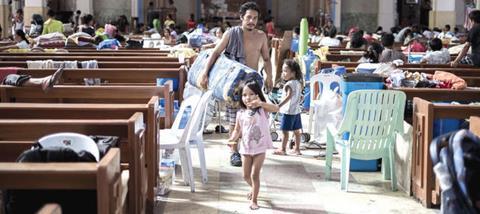 The 300-mile wide storm is the deadliest in the country's history and one of the most powerful typhoons in the world on record. Eduardo del Rosario, executive director of the Philippines' National Disaster Risk Reduction Management Council, said that more than 4 million people were displaced, and more than a million houses have been damaged.
The response from the Church has been swift and generous, with many Christian charities and organisations sending relief workers to help by providing on-the-ground support and delivering aid packages, as well as fundraising here in the UK and around the world.
In the weeks following Typhoon Haiyan, known as Typhoon Yolanda in the Philippines, these aid workers witnessed the devastation caused by the 270km/h winds, which flattened almost everything in their path.
Sudarshan Sathianathan, Tearfund's head of Asia region, described walking down the streets of Marabut, a badly hit town in Samar, noting how it had been transformed from a quaint, pretty town into a scene of destruction.
'Collapsed buildings all over the town; uprooted coconut trees on the surrounding hills; a stagnant black sludge for a river; strangers like me walking down the main street along with a television news crew. More than 2,000... were injured ? 400 are in desperate need of medicines. The town is in shock, desperately requiring water, food and a roof over their heads.
'The midday sun was beating down as I tried to imagine what it would have been like when slimy, thick, black mud followed by three huge waves rolled into this town on a day when rain pelted down with fury.'
The headline was defiant: 'Faith stronger than the typhoon'
Scenes like this have become commonplace in the wake of the storm, with people trying to put not only their homes, but their entire towns or villages back together.
Daphne Villanueva, Christian Aid's country manager for the Philippines, told Christianity that the survivors 'are literally picking up the pieces ? what is left of walls, posts and roofing from their previous homes and other building materials scattered everywhere by wind and water. These materials make up their new, makeshift dwellings, which people try to construct nearest the main road to be within easier reach of relief distribution. Their flimsy homes stand in between mounds of debris that have yet to be cleared.'
She said the real problem is that many people are simply abandoning their towns. With their homes destroyed and their livelihoods put in jeopardy, they are heading to the cities in an attempt to find money and shelter.
'There is a constant exodus of people wanting to go to the nearest city to find better accommodation and ways to earn a living,' said Villanueva. 'This will soon create problems for the cities concerned. Recovery and rehabilitation interventions need to happen very soon, to help people get back on their feet.'
However, despite the colossal damage that has been done ? thousands injured or displaced, trees uprooted, buildings destroyed ? aid workers are seeing resilience and even hope.
World Vision UK spokesperson Chris Weeks tells Christianity that although 'their homes lay at the side of the road in a tangled heap of wooden sticks and twisted metal sheeting', what had affected him most was the survivors' fortitude and stoicism in the face of adversity.
'What struck me was the resilience of the people I met. It's a word that's generally overused, but when you've lost everything you own, you no longer recognise the place you live, and you're seemingly cut off from the rest of the world not knowing if help will arrive, yet you still remain hopeful, that's what I call true resilience.
'I think the collective mood of a nation is often summed up by its national press headlines. A few days after the typhoon, when bodies were still being counted and everyone knew how devastatingly horrific this was, I picked up a newspaper here. The headline was defiant: "Faith stronger than the typhoon"
'Despite everything, people here have been through with this terrifying and historic weather event, I think that headline says it all.'
Tearfund's Sathianathan has also experienced great hope in the midst of the crisis, describing joy upon witnessing a US aircraft dropping off much-needed medical supplies when it looked like no help was on its way.
'It was a special effort of love, a grand gesture of goodwill and a wonderful demonstration of human strength. As it unloaded those precious supplies, it seemed to make a clear statement to the people of Marabut ? "you are not alone"
'As it lifted itself up and flew away, ever so gracefully, beyond the hills, it lifted my heart and I am sure the hearts of everyone who witnessed it. It felt good. It felt right. For a brief moment, everything seemed possible. I felt that there is more love in the world to overcome any obstacle.'
Justine Demmer, children's charity Viva's network consultant for the Philippines, paints a picture of a situation in which faith remains stronger than despair: 'There are many tears, and the shock is still strong, but the people of God are finding their strength and doing what's needed.'
Though the courage and faith displayed by survivors and aid workers alike are heartening, there is a message of warning that underlies the crisis, according to Paul Cook, advocacy director at Tearfund.
'Without action to reduce emissions and help countries like the Philippines adapt to the changing climate, we're going to see more devastation across the world,' he said. 'We thought the recent UN meeting in Warsaw would have been an ideal opportunity to move forward, but until governments around the world work together we won't see the progress that's needed.'
Christians are being encouraged not only to pray for the victims of Typhoon Haiyan, but also to donate what they can to the Disasters Emergency Committee, a group of 14 organisations including Christian Aid, Cafod, Tearfund and World Vision.