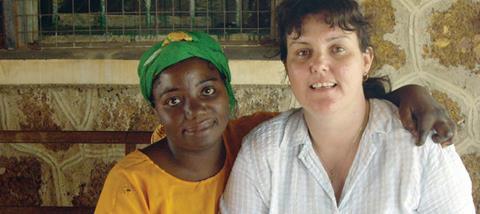 As the gunman held his weapon to her head, 26-year-old Jannine Ebenso was told not to speak to or look at her attackers. Defy them and she would be shot dead. It was then that she heard a voice in her left ear. 'I know it's scary, but tonight's not the night you're going to die. I'm here.'
'I know that if I had turned my head, I would've seen Jesus,' Ebenso says.
Just moments before, she and a colleague had been listening to the BBC World Service by candlelight in the living area of their shared house in the grounds of Qua Iboe Church (QIC) Leprosy Hospital in Akwa Ibom State, south-east Nigeria, where Ebenso had worked as a physiotherapist for a year.
'I know that if I had turned my head, I would've seen Jesus'
The four gunmen sexually assaulted her, but didn't follow through with their threats of rape.
They stole what modest goods they could from the house and scarpered. Hearing the women's screams, nearby hospital staff and patients ran to see what the problem was.
FOOTPRINTS
Hospital staff later asked the young women to list what had been stolen. The items included a money box, a clock and the radio they had been listening to at the time of the attack. By coincidence, or – as Ebenso and her friends believe – by divine intervention, there had been a rain shower earlier in the evening. It had washed all the day's footprints away, except for the four gunmen's fresh prints.
Experienced hunters from the local village were able to follow the footprints through the forest, where they found the men hiding with the goods. Villagers tied them to trees, but were persuaded to allow the Nigerian police to handle the situation before they took justice into their own hands.
THE COURT CASE
Ebenso remained strong in the aftermath of the attack. But following the court case a year on, she fell apart. 'My colleague had returned home to the UK, and I was banned from leaving Nigeria as I was now the sole witness in the case,' she explains.
In many ways, the court case and subsequent events were more dramatic than the armed robbery and assault itself. 'The case itself was almost like an out-of-body experience,' Ebenso says. 'The four men were found guilty and sentenced to death by shooting.'
It was another year before the sentence was carried out. 'That's when I really went to pieces,' she says. 'I was under pressure to ask for clemency. But on the other hand, people were saying, "They will come and murder you and all the villagers who helped capture them."
'I prayed for God to show me the way forward as to whether it was his will that they be shown clemency or for me to continue living there, and for the safety of the villagers.'
The four men were shot the following year.
CHALLENGES
Ebenso continued her work with leprosy patients at the QIC Leprosy Hospital, and frequently travelled into the bush to help diagnose leprosy and offer treatment in remote communities. She was often the sole female conducting the leprosy clinics, but despite violence against women being commonplace in Nigeria (the latest British Council Gender in Nigeria report states that one in three women and girls aged between 15 and 24 has been the victim of violence), Ebenso says she never again felt threatened.
I had never even given an injection before and suddenly we were in charge of medicines'
Her work remained challenging, however. A year on from the armed robbery, Nigeria experienced a three-week civil service strike. Ebenso and a fellow Leprosy Mission colleague were left to care for the hospital's 120 patients.
'I had never even given an injection before and suddenly we were in charge of medicines,' she recalls. 'We had to ask some of the long-term patients that we knew well for help in caring for those less able. We did everything from nursing care to cleaning, laundry and making the food. Between us and the patients, we managed it.
'God was very good and nobody got really sick; there was nothing we couldn't cope with. Knowing that God was with us, protecting us and making sure that we were not overwhelmed by what was happening was such a strength and comfort.'
ROMANCE
A desperate need for a new doctor at the hospital came to the fore soon afterwards. Ebenso and her colleagues prayed for the right person to come along, believing the words in Isaiah 65:24: 'Before they call I will answer; while they are still speaking I will hear.'
Her prayers were answered later that year. A young mission doctor, Bassey Ebenso, was appointed. Romance blossomed and they married three years later.
The couple remained at QIC Leprosy Hospital for another year before moving to Zamfara State in Northern Nigeria, where Bassey headed up the leprosy control programme and Jannine led the mission's disability work. In 1999, they moved to Minna in Niger State as Bassey was appointed national director for The Leprosy Mission Nigeria (TLMN). Jannine continued to work as a physiotherapist, disability advisor and trainer.
Having come face to face with death that fateful night, Ebenso continues to trust that God is always present, even in her darkest hour.
Jannine Ebenso currently monitors the output of TLMN's programmes from the charity's London offices. The role sees her travel widely. She blogs at janninesafricanjournal.blogspot.co.uk
leprosymission.org.uk
Words: Charlotte Walker