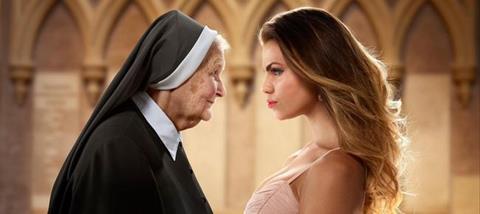 The Daughters of Divine Charity in Swaffham, Norfolk peer out of the window as a tall, shapely girl in a wide-brimmed hat, faux-fur coat and knee-length, stiletto-heeled boots struggles to drag her two enormous suitcases through the gate and across the gravel forecourt. She rings the bell and they greet her with welcoming smiles and a warm embrace.
She is one of five girls – all of them younger than a pair of shoes owned by one of the nuns – who have come to the convent for a month-long 'spiritual journey', to be filmed for Channel 5. The opening scenes introduce us to Paige, Tyla, Gabbi, Sarah and Rebecca in their normal lives – trying out sexy poses in dresses that barely cover the essentials, podium dancing in a crowded bar, drinking shots, and taking endless selfies.
These are hard-living modern women, who have it all, yet feel there's something missing. When they signed up for the programme, they had no idea what the 'spiritual journey' would involve other than surrendering their mobile phones. Finding themselves at a convent in a tiny Norfolk town was a shock.
I was cynical about the programme when I first saw it advertised. 'More car-crash TV,' I thought. 'Sensation-seeking producers pairing up strong-willed people with as little in common as possible in order to create maximum disaster.' Well if that was their plan, it backfired spectacularly!
The girls, while initially horrified by the idea of rules, discipline, and not being allowed to swear, were there because they knew their everyday lives weren't scratching where they itched. What the nuns offered was more like parenting than any kind of spiritual direction. And what wise, loving parents these childless women were!
The party girls knew their everyday lives weren't scratching where they itched
When two of the girls slipped away from a trip to a local charity shop and bought a contraband bottle of vodka, the nuns sat them down and talked about trust. The girls apologised, but with a sense of feeling sorry they were caught rather than sorry for their actions. Later on, after an exercise where they made pictures representing what they most valued in life, and heard the perspectives of some of the sisters, Sarah, a participant in the vodka escapade, took Sister Linda aside and made a genuine apology. The simple task of thinking and reflecting on what really mattered was enough to make Sarah genuinely repentant, and the wound was quickly healed.
The combination of love, wisdom and – importantly – time to shut out the world and think worked absolute wonders. I could tell you story after story of self-esteem renewed, a desire to help others kindled, an understanding of the value of commitment birthed. How Gabbi decided to stop hiding behind her heavy make-up, and Paige committed to supporting her; how Rebecca wrote a letter to her dad telling him she wanted to apologise when she got home, and to put things right between them; how all of them learned that they could be loved for themselves and comfortable in their own skin.
No spiritual growth
My one disappointment with the programme was the lack of any kind of spiritual input. Maybe the producers cut it out, but we never heard the nuns helping the girls understand their faith, teaching them what the prayers and scriptures were about, or pointing them towards Jesus as the only one who could really give them the deep happiness and meaning they were looking for.
All the nuns appeared to offer was the opportunity to be still and think. Even when sharing their own stories, the nuns gave no indication that they were sustained in their vows of poverty and chastity by the love of Jesus.
In the last episode, when the nuns were hearing about the changes the girls were planning to make in their lives, one asked, "Are you going to go to church more often?" The silence was not so much awkward as totally surprised. It simply hadn't occurred to them. They were ready to make lifestyle changes, and to start doing the right things (or at least fewer of the wrong things), but hadn't had any spiritual growth.
That aside, the programme is well worth watching on its own terms. I certainly felt that I was seeing a miracle unfolding before my eyes, and was left feeling very hopeful. If you're looking for something truly uplifting to watch on these long winter evenings, I can't recommend it highly enough.
Jennie Pollock is a freelance writer and editor who lives in London and works wherever there's a comfortable chair, an internet connection and a good cup of tea. She blogs at jenniepollock.com and tweets as @missjenniep.
Bad Habits – Holy Orders is available through Channel 5's online catch-up feature 'My 5' until 9 November 2018. Content advisory: contains sexualised imagery, brief nudity and some very strong language.
Click here to listen to an interview with the nuns on Premier Christian Radio
Click here to request a free copy of Premier Christianity magazine