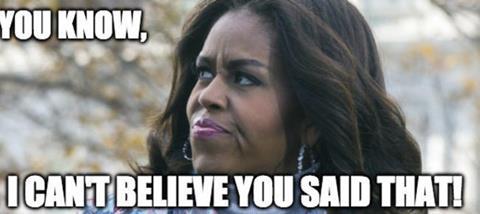 "If all vicars looked like you I wouldn't have stopped going to church" *leer* #ThingsOnlyChristianWomenHear

— Kate Wharton (@KateWharton27) April 20, 2017
Sadly Rev Kate Wharton is not the only woman in ministry who hears this kind of comment.
Yesterday, American writer and feminist, Sarah Bessey tweeted, almost flippantly, into a Twitter conversation that #ThingsOnlyChristianWomenHear could be a hashtag. There followed a few replies. Then she got on a plane for 12 hours. When she got off, Twitter had done its thing and the hashtag was spreading like wildfire and continues to do so.
Women across the world are now sharing the ridiculous, appalling, prejudicial, and in some cases downright dangerous things that have been said to them.
If it weren't for the fact that it's all on Twitter you could be forgiven for thinking we'd time traveled back 50 years. From the age old classics like "women should be silent in the church" and "you can teach in Sunday school not in the pulpit" (yawn) to the ridiculous:
Do not read Song of Songs until you are married. #ThingsOnlyChristianWomenHear

— Suzanah Raffield (@SuzanahRaffield) April 20, 2017
the downright sexist:
So who cooks dinner on a Sunday with you being ordained? #ThingsOnlyChristianWomenHear

— Nicki Hobbs (@thesparklyrev) April 19, 2017
and the definitely dangerous:
"If you stay with your abuser, you might bring him to the Lord." #ThingsOnlyChristianWomenHear

— Sarah Bessey (@sarahbessey) April 19, 2017
As I read through these tweets I chuckled away to myself, only to then recoil in horror at some of the outrageous things that have been said. This is way more than a hashtag. Despite the fact that there are the usual trolls questioning the validity of these tweets, we are talking about people's lives here, their very real experiences of the comments that have been said to them and their pain often caused by Pastors and those in authority.
Rev Kate Bottley comments, "It's not helpful for us all to pretend everything is ok in the church, it isn't. And lack of authenticity is what has limited authentic engagement for years. It's important to speak the truth about an institution. [The hashtag is] a good call out in my opinion…It's made a lot of my non-faith but fierce equality supporters be more vocal in their support for me and what I do."
Others have found the thread positive too, with Kat Mepham, an Ordinand in the Church of England noting: I think it is strangely cathartic to share some of the stuff that has been said to me/us but another Vicar highlighted there is a darkness behind it too: "I read some of the clergy ones…and I hugely empathise. However, some of the tweets are very disturbing and upsetting with that hashtag and show the amount of abuse and oppression of women due to their gender."
We could question whether this just a Christian thing anyway. After all the #EverydaySexism hashtag has been going for a while and has many similar tweets. But the danger here is that when God or the Bible is used as the ultimate authority, it can change peoples lives, and not for the better.
For those of us with faith, seeking to live a life that is glorifying to God, to be told what we are doing is wrong, or not honouring God, or even against God's will can be soul-destroying.
For those who are down trodden and stripped of a voice to speak out, those who've had their identity worn away, or never been allowed to flourish, for those whose faith has been battered because they've been told they are not hearing from God right ?#ThingsOnlyChristianWomenHear is a painful truth and one we need to take note of in the Church.
We have a responsibility, to look out for each other, to take a stand against this kind of abuse and bullying, and continue to seek change for the better. And thankfully there are those doing that, for a start the spin off ?#ThingsChristianWomenShouldHear? is fantastic and supportive. But there is still so much to be done.
So the next time you hear someone pulling down a Christian woman, stand up for her.
The next time a Pastor says something derogatory from the pulpit, call him out on it.
And the next time you face any kind of bullying based on gender, be strong, there are thousands out there standing with you.
Jules Middleton is a 40 something mum of 3, wife, lover of Jesus and Curate in the Church of England, not necessarily in that order. She has always been a creative type which these days takes its form less in her fashion sense and more in writing. She blogs at pickingapplesofgold.com and tweets @redjules
Click here to request a free copy of Premier Christianity magazine