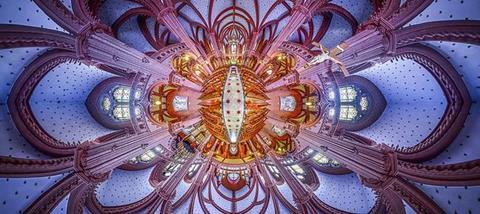 Freelance photographer Ernst Christen specialises in panoramic photography of buildings across the world, including many churches.
Here are some other photos from the series:
In order to create these panoramas, the whole church room was photographed in 26 images in slightly overlapping fields of view.
Ernst used stitching software, which assembles multi-row panoramas, to combine the multiple images together into one.
As the British Journal of Photography explains, the camera must be rotated about the centre of its entrance pupil in order to correctly stitch panoramas without parallax errors.
Ernst says that most errors he made were due to an inaccurately aligned camera. 'I learnt to align the camera on the tripod within the church, according to the geometry of the whole building,' he says.
Ernst has been working as a freelance photographer since 2008. He lives and works in Selzach, Ct. Solothurn, Switzerland.
The former Buddhist Monk says his images are designed to 'touch us by silence, just for a moment'.
To view more photos and find out more about Ernst's work, visit his website
Click here to request a free copy of Premier Christianity magazine