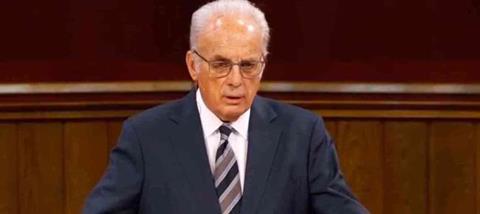 As the leader of a small church in Studio City, in Los Angeles, I've become accustomed to the "new normal" of livestreaming church from our living room.
Countless other churches in LA and the rest of California have also been faithfully gathering in obedience to Jesus Christ while also respecting our local and state health official orders, believing this is part of our calling in following Christ laid out in scriptures like Romans 13. It hasn't for one second been easy. We haven't always agreed with how our governing officials have drawn the lines of restriction, citing our very real religious liberty concerns, among numerous other reasons. But we have chosen to believe our governing officials are partners with us in seeking the good of our communities instead of enemies to be fought.
That's why it was so disheartening yesterday to hear one of the most influential pastors of our day, say to his congregation, "There is no pandemic."
John MacArthur, pastor of Grace Community Church just six miles north of us here in Los Angeles, said to his church of thousands, "In truth, 6 per cent of the deaths that have occurred can be directly attributable to Covid, 94 per cent cannot. Of the 160,000 people that have died, 9,210 actually died from Covid. There is no pandemic." (See below clip)
It seems Pastor MacArthur had caught wind of a false interpretation of a statistic which spread like wildfire yesterday among other Covid skeptics. It's a story that President Trump retweeted and which was subsequently removed by Twitter due to factually inaccurate claims. As CNN explained, stating that Covid-19 was "the only cause mentioned" on a deceased person's death certificate is not the same thing as saying only 6 per cent of reported deaths "actually died" from Covid. It just means the other 94 per cent were listed as having at least one additional factor contributing to their death.
Or to put it another way:
"Nobody dies from smoking! The stats on smoking deaths are padded by people that have lung cancer!"

This is what you sound like when you say "Only 6% of reported COVID deaths are actually from COVID."

— Micah Odor (@micahodor) August 31, 2020
Because he's taken the data out of context, MacArthur's conclusion that only 9,210 people have "actually died from Covid" is grossly inaccurate. The New York Times has compiled data from the CDC into helpful charts to show just how many excess deaths have occurred in the US since the pandemic began. It's likely much greater than 200,000.
Deception
In the above clip which has been circulating online, MacArthur said: "We know there are reasons for this [lockdown] that have nothing to do with the virus. There's another virus loose in the world and it's the virus of deception. And the one who is behind the virus of deception is the arch-deceiver Satan himself. And it's not a surprise to me that in the midst of all this deception the great effort that is going on is to shut down churches that preach the gospel… It does not surprise me that they want to shut down those who preach the gospel because the architects of this level of deception are not a part of the Kingdom of Heaven; they're a part of the kingdom of darkness."
MacArthur appears to be arguing the government, from the president to the governor, to the state and local health officials, are part of a vast conspiracy to stop Christians and churches that preach the gospel. This conspiracy is part of a spiritual deception led by Satan himself, according to MacArthur.
But Christian leaders must be those who lead in truth, not conspiracy. As Adrian Warnock wrote on this blog last week, "Christians are meant to love the truth not promote lies."
MacArthur's influence is hard to understate. I am only 39, have been in ministry only 17 years, and have a church of 35 people. No one cares much what I think. But John MacArthur has been in ministry for more than half a century, has helped create his own college and seminary, and has an influence parachurch ministry. When he says that the government response to Covid is part of a Satanically-influenced "virus of deception" to stop churches from gathering, Christians will believe him. Well-meaning people in my own congregation have brought up similar conspiracy-related theories. Christians in a pandemic need to be graciously shepherded to faithfulness through the hardship, not encouraged with false narratives which, if acted upon, could ultimately lead to the spread of the virus and increase deaths in their own communities.
'Avoid foolish controversies'
The Apostle Paul instructs a young Titus, "But avoid foolish controversies, genealogies, dissensions, and quarrels about the law, for they are unprofitable and worthless. As for a person who stirs up division, after warning him once and then twice, have nothing more to do with him, knowing that such a person is warped and sinful; he is self-condemned" (Titus 3:9-11).
I'm praying this scenario will not be true of Pastor MacArthur related to the division and confusion he is causing during this pandemic.
I'm praying he'll repent of the false witness he is bearing. For his own sake, his church's sake, the greater American evangelical church, and all of our communities affected by this great trial.
DJ Jenkins is pastor of Anthology Church in Studio City, California. Follow him on Twitter @DJJenkins
Premier Christianity is committed to publishing a variety of opinion pieces from across the UK Church. The views expressed here do not necessarily represent those of the publisher