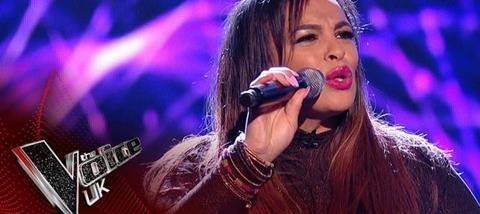 Congratulations on making it to the final of The Voice!
I'm super proud. I never actually went into the show even thinking about winning. Obviously you want the chair to turn. It would be horrific if nobody turned! But for me it was about getting some exposure and making an announcement about myself as an artist. I've been a backing singer for a long time so sometimes it can be difficult for people to accept you in another role.
If I'm honest I said, "no Lord I don't want to do it!" But it just felt like I should, so I did. I have no regrets whatsoever. It was a fantastic experience and a learning experience. Now it's onwards and upwards!
You've had a full career already - singing with Eric Clapton, Carole King, Annie Lennox and other legends in music. And you performed at the White House for Barack Obama. Did you feel like this was your time to shine as a solo artist?
I constantly have those moments where I pinch myself – you mention me singing at the White House. I had these fabulous shoes on. And the girl I was singing with had even more fabulous shoes. I saw Barack and Michelle Obama sitting at the front and talking about our shoes! I'm this girl from a council estate in Peckham and Barack and Michelle are pointing at my shoes! I sang at the Queen's Jubilee in 2012, a million people on The Mall, streamed across the world, singing backing vocals for Shirley Bassey thinking "wow this is a bit great, isn't it!" Those moments blow me away.
But I've been singing everyone else's song for such a long time. In the last year or two I've felt it's time for me to sing my own song. I've gained so much experience from working for these artists. I feel like I'm taking that experience and it's time for me to do my own thing!
I'm a chronic people-pleaser. I've always had that theme in my life – being a backing singer or in a choir. Serving others. So taking this big step and saying "I'm here to be Michelle" - I'm proud of myself for that.
Originally, will.i.am was the only person to turn his chair for you.
Thank God Will turned! I think he said my voice reached out and hit the button. I said "thank you Jesus!"
He said "who would you have wanted to turn around? Be honest". The truth is there were two people. Will was one of them and Jennifer Hudson was the other – because we're females and she has a big gospel voice like myself and we come from a church background. I felt like we would connect easily.
How much of a mentor was Will to you?
He was very instrumental in the songs I chose. It wasn't 'sing that, make it work'. I felt like it was a two way conversation but also he would say "if you're going to do it Michelle, do it!" He really gave me the green light to be myself, and I really appreciated that.
He seems like great fun.
He's wonderfully wacky, we love that!
You haven't hid your faith on The Voice. Did anyone ask you about it behind the scenes?
Absolutely. will.i.am asked me "have you been baptised?" I said "yes I have". He said "have you been filled with the Holy Ghost?" I said "yes sir I have". He said "do you speak in tongues?" I said "yes I do!" We had that conversation.
I've never hid my faith. As I've got older I think I have even more of a responsibility to act right. As much as we can say "I'm a Christian" we have to act it! I might be the only representation of Christ in some places. My attitude is introducing Jesus. How we behave. Even in our excellence. In every area we should represent Christ. We don't have to wear a badge saying "I'm a Christian". How we act and how we behave should be our badge.
Was it difficult being a Christian in that environment?
Sometimes we have to learn to pick our battles. There were some things where a TV show wants to portray you in a certain way – down to song choices, your clothing, all of that. There were some things where I felt like this is not important to fight. But there were other things where I had to say no to.
Everyone else is a size 8 or 10. And as a woman you feel "I'm the eldest, I'm the biggest!" I was having these conversations in my mind constantly saying to myself "so what? You're good enough to be here. Put on that a size 14 dress and shine!"
Your story about experiencing domestic violence came out in the press. How did you deal with that?
There was some newspaper articles – obviously with me being on The Voice they had done research on me. I'm not ashamed of the things that I've been through. It's made me the person I am today. I made a decision this was not going to break me. It was going to make me.
My first responsibility was always to my son. I've written a song 'Priceless' on my EP about that experience of domestic abuse. I felt it was important for him to know and understand that this is part of my journey and for him to know it has nothing to do with him and there's no blame there. You don't want to go into detail as a mother, you want to protect him. But I think it's also important to give him truth.
I was determined for it not to be something that broke me. I experienced that with my mother – I saw my mother go through it. There's a cycle here. I had the determination that this cycle would be broken and my son would not be in that environment. It's going to be broken in Jesus name!
My songs talk about hurt and brokenness because I felt that way for a long time. So I couldn't just write songs about being happy. I needed God to be real for me in the person I saw in the mirror every day.
I've been on this journey of healing. Right now I feel like I'm in a season of bravery, but it's taken a long time to get here. I come from a broken home, single parent family, I went through domestic violence. I can sing that sob story, but I refuse to let that be the last thing you say about me.
Did the church support you?
I said nothing because I felt ashamed. I was embarrassed. I felt that people wouldn't support me or people would say it's my fault!
I couldn't talk to my family for a long time. We put on our Sunday best and we want it to look like we're this beautiful couple and everything is perfect. We're guilty of that sometimes as Christians – we put that pressure on people that we have to show perfection.
Listen, we're saved by grace and we need grace every day. I couldn't share it to the church for a long long long time. When I was finally able to write the song 'Priceless', so many people sent messages. They felt sorry for me. So many people were shocked. But it was like a burden came off my shoulders, I felt like now I could be honest.
Singing is such a spiritual experience. You don't have to be singing gospel music to know that. Have there been moments where you feel God's presence?
One hundred per cent! Or I've made it a God moment! You could be singing something like 'Tears in Heaven' – I've worked with Eric [Clapton] for 14 years and done every tour. We've sung that song many times. There have been times when I've been singing it saying "Lord, would you know my name?" You make it personal. You make it a God moment.
What's the biggest lesson you've learned about yourself in life?
I'm good enough. I'm not here by accident. God has a purpose for me. My path may not be yours, but I'm good enough. Once I accept that, then I can accept opportunities and I can walk in that.
I'm 43 and some people would say "you've missed the boat". I say "what does God say about it?" So I'm going to go forward. I think this is my time to be me and to shine. If the Lord would have it that way and open the doors then great. I've learned to be brave and that I can do this.
Michelle John was speaking to Loretta Andrews on Premier Christian Radio's 'Drive' program. Listen again at premierchristianradio.com/drive
Click here to request a free copy of Premier Christianity magazine