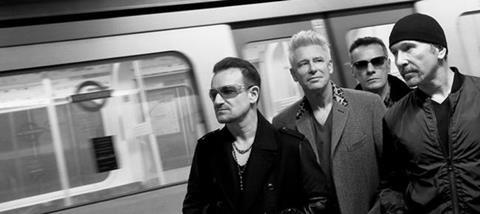 1. I still haven't found what I'm looking for
Although some thought this track from 1987 signified that Bono was unsatisfied with his Christian faith, it may equally have been based on Philippians 3:7-14 where Paul talks about "not already obtaining" what he's looking for, but "pressing on" and "straining ahead".
You broke the bonds and you
You loosened the chains
You carried the cross
Of my shame
Oh my shame
You know I believe it
2. Gloria
This was the second single off U2's October album. The chorus is taken from the Latin hymn 'Gloria in excelsis Deo'.
I try to sing this song
I...I try to get in
But I can't find the door
The door is open
You're standing there
You let me in
3. Yahweh
Speaking about the song, which is named after the Hebrew word for God, Bono said "The title's an ancient name that's not meant to be spoken. I got around it by singing. I hope I don't offend anyone."
Take this city
A city should be shining on a hill
Take this city
If it be your will
What no man can own, no man can take
Take this heart
Take this heart
Take this heart
And make it break
4. Falling at Your Feet
Could this song from The Million Dollar Hotel soundtrack be inspired by Philippians 2:10-11 where Paul writes that "every knee will bow" before Jesus?
All fall down
In whom shall I trust
All fall down
How might I be still
All fall down
Teach me to surrender
Not my will
Thy will
5. Grace
Bono wrote this song soon after reading and recommending Philip Yancey's bestseller What's so amazing about grace?
Grace
A name for a girl…
And a thought that can change the world
6. Window in the Skies
The chorus asks, "Oh can't you see what love has done?"
The rule has been disproved
The stone has been moved
The grave is now a groove
All debts are removed
7. Moment of Surrender
The third track on 2009's No Line on the Horizon is a prayer of commitment that shows U2's faith has never gone away.
At the moment of surrender
I'm falling to my knees
I did not notice the passersby
And they did not notice me
8. October
This quiet song is a psalm like reflection which contains just seven lines.
October and the trees are stripped bare
Of all they wear.
What do I care?
October and kingdoms rise
And kingdoms fall
But you go on
And on.
9. 40
This classic U2 track is based on Psalm 40
I waited patiently for the Lord
He inclined and heard my cry
He brought me up out of the pit
Out of the miry clay
And I will sing
Sing a new song
10. Magnificent
Many critics hailed this (worship?) song as one of No Line on the Horizon's highlights
Justified till we die, you and I will magnify, oh-oh
The Magnificent
Click here to read this month's cover story on U2 at 40
Click here to request a free copy of Premier Christianity magazine