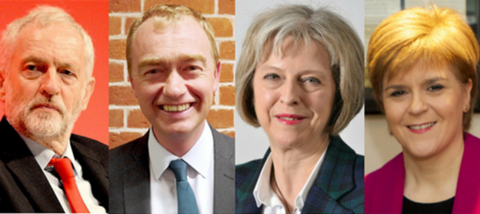 In an article for the Spectator magazine nearly two years ago, theologian Theo Hobson suggested that British people want a leader who is sympathetic to religion. A cursory look at recent political leaders in our country would seem to bear his argument out. Margaret Thatcher said she was a Christian, while Tony Blair was happy to talk about his faith commitments. Gordon Brown began his premiership with a speech that tapped into his own Presbyterian upbringing and the moral code it gave him. David Cameron might have held his own faith beliefs very loosely but he certainly claimed they were there. As Christians, the faith commitments of political leaders should interest us because it can help inform who we vote for and why.
With that in mind, the following is a brief summary of where six of our political leaders stand in terms of faith commitments. Some are easier to draw conclusions from than others. Moreover, what follows is not intended to be the final word or in any way exhaustive. It is not my intention to make categorical judgements but merely to present the evidence and allow you to make up your own mind.
Theresa May - Prime Minister and Leader of the Conservative Party
Theresa May is not only the daughter of a vicar in the Church of England; she herself is a regular churchgoer. With her husband Philip May, she has often been photographed leaving the local Anglican Church in her Maidenhead constituency. She has spoken about how her vicarage upbringing has shaped her moral compass and how faith has helped her to come to terms with remaining childless. In the House of Commons, May has argued that Christians should feel free to speak about their faith in the workplace. May also thinks our Christian heritage is something we can be proud of. Her candidness about her faith in God has been labelled 'refreshing', in contrast to the infamous 'we don't do God' line of the Campbell/Blair era.
Her Easter message was certainly an improvement on Cameron's effort two years ago although it can hardly be said to have been a passionate, gospel-centered narrative. More problematic for many Christians is the fact that it was while she was Home Secretary that same-sex marriage was introduced and May has said she supports the legislation herself. On abortion, she has previously argued that the time-limit on abortion should be reduced from 24 to 20 weeks and she voted for a ban on sex-selective abortion as well. May has repeatedly made reference to the fact that as a nation, the UK can be confident of the central role Christianity has to play in our country's future.
Jeremy Corbyn – Leader of the Labour Party
Jeremy Corbyn has been very reticent to speak publically about his faith, describing such beliefs that he may (or may not) hold as 'private'. He has denied being an atheist but has not publically committed himself to any particular faith. Before becoming Labour leader he did an interview with the Christian magazine Third Way in which he talked very positively about some of the values held by those with faith. He acknowledged he had many atheist friends who wanted nothing to do with faith at all, but that he himself was more relaxed.
It is worth pointing out that his father was a professing Christian and Corbyn himself went to a Christian school. So what you get with Corbyn is a mild interest in faith as a concept and a lot of appreciation for faith in action. He used a blog post once for Christians on the Left to argue that values the group subscribe to (such as fairness, equality and so on) were his values and those of the Labour party. Corbyn clearly sees a connection between certain Christian values and the brand of socialism he represents.
Tim Farron – Leader of the Liberal Democrats
Anyone who has taken the time to follow the early skirmishes of the 2017 General Election will know Tim Farron has taken some body blows because of his faith. He has been routinely quizzed by various people in the mainstream media about his faith. He is openly evangelical and has spoken publically about his testimony. He was converted as an adult and has not shied away from speaking positively about the role his faith in Christ plays in his life. In an interview with the Guardian, Farron said that his faith was in Jesus Christ and that he followed him both as Saviour and as Lord.
However, such openness has been problematic and he has been subjected to a frankly ridiculous level of interrogation over whether his privately-held faith influences Lib Dem policy. Since becoming leader, Farron has caused some controversy after doing u-turns on issues such as abortion and same-sex marriage. Whereas previously he publically took a more socially conservative line, recent evidence suggests there has been some movement in a different direction. Most recently, he has taken to asking journalists to stop asking him faith related questions in an attempt to move the conversation on to actual Lib Dem policy.
Paul Nuttall – Leader of UKIP
Paul Nuttall is a former deputy leader of UKIP, former MEP and now leader of UKIP. He is a practising Catholic and in 2015 he gave an interview to the Tablet where he intimated that, on social issues such as gender-selective abortion and same-sex marriage, UKIP was 100 per cent behind the Catholic Church. Educated at a Catholic comprehensive, Nuttall also spoke out last year when it emerged the Royal College of Midwives was in favour of scrapping all abortion restrictions. On his personal blog, Nuttall was also vocal in his support for Peter and Hazelmary Bull who were prosecuted for refusing to allow a gay couple to spend the night in their privately owned bed and breakfast.
Jonathan Bartley – Co-Leader of the Green Party
Elected as co-leader of the Green Party in 2016 alongside Caroline Lucas, Bartley used to work as an aide to John Major before changing tack quite radically. He was baptised in the Church of England and at one time sat on one of the Church of England's evangelical councils. Since then, his stance has modified somewhat.
He went on to set up Ekklesia, a Christian think tank interested in the environment, social justice and progressive expressions of Christianity. He is a firm supporter of same-sex marriage and has spoken publically about the need for the Church of England to be more 'progressive'. He has also argued that there is a compelling religious case for removing the Bishops from the House of Lords. Bartley has also said that faith for him is less about doctrine and more about a certain way of living. When Farron was criticised for seemingly holding the view that gay sex is a sin, Bartley explicitly criticised him and revealed that as far as he was concerned, gay sex was not a sin and indeed, should be celebrated.
Nicola Sturgeon – First Minister of Scotland and Leader of the SNP
Trying to decipher Nicola Sturgeon's faith commitments is as hard as trying to find evidence of an SNP minister departing from the official party line (which for those of you unfamiliar with Scottish politics never happens). We know that Scottish church leaders met with the First Minister at the start of this year to discuss matters relating to Scotland and she seems happy to talk positively about religious freedom.
But it seems that she herself does not carry very public faith commitments. On a considerable number of social issues, such as abortion and same-sex marriage, Sturgeon takes positions that are certainly contrary to traditional, biblical Christianity. That being said, she did come out in opposition to an attempt to introduce assisted suicide in Scotland in March 2015.
Conclusion
In wider society, political leaders are allowed to have a faith and indeed, many seem to want leaders to be sympathetic and accepting. But what is less acceptable is any sort of overtly enthusiastic faith. By and large, the evidence bears this out. Many of our political leaders are indeed sympathetic to religion and some have their own faith commitments. But the scrutiny that Farron especially has faced suggests there still a glass ceiling when it comes to enthusiastic faith and the role you play in politics. One wonders if William Wilberforce were alive today, if such a man would ever have survived in modern society where those who are more evangelical seem to face outright suspicion and hostility.
James Mildred is the co-founder of the Holy Political Podcast which provides cutting-edge political analysis from a Christian perspective with the added bonus of taking itself a lot less seriously than the Today Programme.
Click here to request a free copy of Premier Christianity magazine