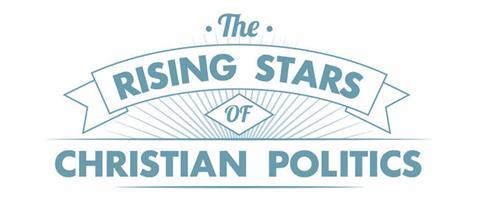 SUZY STRIDE
is the Labour 2015 parliamentary candidate for Harlow. When she's not on the campaign trail she can be found working for City Gateway, a charity striving to combat youth unemployment in east London.
My upbringing and my family have been very influential in my decision to get into politics. I was brought up in Tower Hamlets on a council estate. When I was a child we would have Christmas dinner with my grandparents and all their friends. It's only recently that I realised [these friends] were homeless people they fed and clothed. It's about giving people dignity ? they should be at the table with us. If your heart doesn't break for these things, I don't know what Bible you're reading ? or what God you know.
I worked hard and got into Cambridge. But while I was there, something was always churning in my stomach. I had been able to realise my potential, but what about all the people I knew who weren't able to fulfil theirs? We know where some kids are going to end up [even] when they're in their mother's womb, and it's just not fair. I believe we need a government that levels the playing field.
I'm inspired by Clement Attlee. He went to a private school and then to Oxford, but the thing that transformed his life was that he went to Stepney and served at a working class boys' club. He saw the reality of their lives, and it opened his eyes.
We need to go and serve people and find out about their lives. Working for City Gateway keeps my feet on the ground; in one week I could be teaching a classroom of kids on one of the poorest estates in the country, and have a meeting with Ed Miliband.
Wherever you see Christians fighting for social justice issues ? for me, that is evidence of God at work. I sometimes get frustrated that Christians who contact me always want to know about certain issues, and that's ok, but I look forward to the day when they are asking me about youth unemployment and council estates.
There's a lack of political education in schools, which fosters a lack of interest in politics. People think that all the parties are the same, and all politicians are the same ? especially because they all look and sound the same. We need more people who've got out there and got their hands dirty, not just those who have been in the Westminster bubble.
Follow Suzy @suzy4harlow
FIONA BRUCE
has been the Conservative MP for Congleton since 2010. Before becoming an MP she was a businesswoman, solicitor and councillor.
For me, politics is a calling. I didn't study politics, nor was anyone in my family involved in it. But I looked at the world my two boys were growing up in and felt it could be so much better. We all have a choice; we can stand on the sidelines or get involved and try to make a positive difference. Being able to make a difference in someone's life is the best part of the job.
Political involvement is a privilege and a high calling, because it's about the character of a nation. But unfortunately, poorcharacter on the part of a number of individual parliamentarians recently has led to understandable public disillusionment. The challenge for us now is to win back the public's trust and confidence ? it is, and will be, a long, hard road, but we must try.
I'm looked at the world my two boys were growing up in and felt it could be so much better
I've been inspired by Lord Alton of Liverpool ? perhaps better known as David Alton ? who has led the pro-life work in Parliamentfor many years. It's a subject I am deeply concerned about and actively engaged in as co-chair of the All-Party Parliamentary Pro-Life Group. He is also the chair of the All-Party Group on North Korea, the country with the most religious persecution on earth, and it is a privilege to support him as vice chair.
The first thing I do when I get into the office is to pray. God gives me the energy to do what is a very demanding job.
DUNCAN HAMES
became the Liberal Democrat MP for Chippenham in 2010, before which he was an accountant for Deloitte and a councillor. In 2012 he became parliamentary private secretary to Deputy Prime Minister Nick Clegg. He is married to Jo Swinson, MP.
While working for Deloitte, I remember doing some interesting work for a client, but it occurred to me that even if we did a really good job we were just adding a tiny amount to the bottom line of a big company. That didn't motivate me as much as the public policy issues that I cared about. At that point I chose to become a school governor.
The issue that first helped me to understand why politics mattered was the environment ? I wanted to try and make sure we didn't duck challenging policy issues so that future generations don't look back in horror at the unsustainable way we've been living.
It's not the conservationist part of the environmental movement that I connect with my faith, but increasingly there's a convergence between environmental concerns and international development issues. It's the world's poorest who are mostvulnerable to the consequences of climate change; so it's as much about the consequences of our lifestyles on our fellow man as being concerned about plants and pandas. And I don't see how a Christian could erect local or national boundaries that cause them not to be concerned about that.
On a day-to-day basis, my wife inspires me. She's continually raising the bar for what I might consider to be doing a good job as a member of Parliament ? I'm hugely proud of her.
Follow Duncan @duncanhames
DAVID BURROWES
has been the Conservative MP for Enfield Southgate since 2005. Before this, he was a criminal justice solicitor and a local councillor. He led the parliamentary opposition to the Marriage (Same Sex Couples) Bill. Between work and spending time with his wife and six children, he avidly follows the fortunes of Arsenal Football Club.
I went to university with Tim Montgomerie [founder of Conservative Home, now comment editor at The Times] and together we started the Conservative Christian Fellowship. It was at a time (under Thatcher) when the idea of being a Christian and a Conservative was being challenged.
Christians are wary of getting involved in party politics and instead align themselves to Christian organisations or single-issue groups. But we have to be careful that we don't become an isolated bubble. We are a society based on numbers; unless you have the numbers, people won't have a represented voice.
We have to be careful that we dob't become and isolated bubble
Family breakdown is one of the biggest challenges facing our society. It has a huge social and financial impact. As a lawyer I saw the effects of this; those involved in crime are increasingly affected by fatherlessness and the lack of intergenerational role models. The identity of men and women in the context of family life is under attack. It's not just an old 1950s version of society. It's not about being squeaky clean. It's about standing up for traditional family values as an issue of social justice.
God is involved in every second of my life; he's in control. As a politician you can spend your time fire-fighting throughout the day, but through the word and through fellowship with other Christians you can have a perspective that has greater value, and not dictated by the 24-hour news cycle. Seeing things through God's eyes and trying to be more like Christ creates ? hopefully ? a wise perspective as well as a security and identity that isn't dependent on power or approval.
God is involved in every second of my life; he's in control
Enoch Powell said that 'all political careers […] end in failure'. I'm ambitious for issues, but careerwise...if I were to have acareer adviser tell me how to endear myself to the Prime Minister, I imagine it wouldn't involve opposing him on a key issue that he's personally very committed to. Some good advice I received early on was that it's a marathon, not a sprint ? which means concentrating on issues and principles, which you can represent on the backbench, as a minister or as a campaigner.
Follow David @davidburrowesmp
JEMIMA BLAND
is the Liberal Democrat 2015 parliamentary candidate for East Worthing and Shoreham. She spends most of her week in the Westminster office of John Pugh, MP. Her dog is a faithful companion on coastal campaigning days.
Having worked in the Middle East, I'm motivated by the opportunity to take part in a democratic system that has become a model for democratic systems across the world. I want to help make our democracy a better reflection of our population, by getting more people of different backgrounds and cultures involved.
I'm a Catholic and the principles of Catholic Social Teaching have been important in thinking about the relationship between faith and politics. It's a practical philosophy. It's about human dignity and creating a connection between the individual, their suffering or their aims and ambitions, and the larger scale decision making that politics involves. There is room for Christian values to infuse Christian thinking about politics further ? from community action to things like how we can build a stronger economy and a fairer society.
My faith is a private space in which I get to think about what is important. That's what prayer is, that's what going to church is about. It's not an easy space, it's quite a demanding one.
Follow Jemima @JemimaBlandLD
BUKKY OLAWOYIN
is a Conservative councillor in Hatfield and a deacon at Jesus House for All Nations Church. Born in Bolton, he spent most of his childhood in Nigeria.
There was a period in 2006-07 when the newspapers were full of comment that there weren't enough black role models in the community. Around the same time, a comment was made about how much foreigners take [from society] but don't contribute. I asked some friends, 'In the last few years, how many of us have given to charities (apart from churches) and how many of us have got involved in the community?' Having thrown down the gauntlet, I decided to become a governor at my daughter's school. I enjoyed it so much I began tweeting about it and putting things on Facebook, making people aware of what was happening.
If Jesus were on the Earth today, he would be involved in public life
The myth is that the Conservatives are typically a middle class, white party and they don't have any time for non-whites. But I went along to a meeting to find out what it was all about. After I joined the party and began volunteering, I'd discuss things with friends and give feedback to the party, so that their views were represented.
If Jesus were on the earth today, he would be involved in public life. He teaches us to be a blessing to whoever we come into contact with, and the Bible encourages us to be valuable tools and help others. Being a councillor helps me to empathise with people; it allows me to be bothered about them.
Follow Bukky @bukkyolawoyin
DARREN PAFFEY
is a Labour councillor for Southampton City Council and a lecturer in Spanish and Linguistics at Southampton University.
I got involved in local politics because although I'd been interested in current affairs for a long time, I realised it was one thing to have opinions and another thing to do something about them.
I wanted to influence the community for the good. I had been active in local church outreach programmes with the vulnerable, but some of the reasons people find themselves vulnerable are political. I felt that my priorities best fitted in the Labour Party, so I worked for the general election campaign in 2010 and was asked if I would consider being a councillor.
I'm inspired by people who put their money where their mouth is, or give their time and skills to improving things that they thinkcould be done better in their family, church, community, city, country ? at whatever level; people who don't just accept the world is doom and gloom.
In terms of people of faith, I respect those who are prepared to get their hands dirty. The relationship between faith and politics can often be a bit fraught, but Justin Welby and John Sentamu have both shown that this relationship can work because the Church has something relevant to say.
'Politics doesn't affect me' is something that I often hear. But the roads you drive on and the schools your children go to ? it is people in politics who are involved in trying to make those things better.
Follow Darren @darrenpaffey