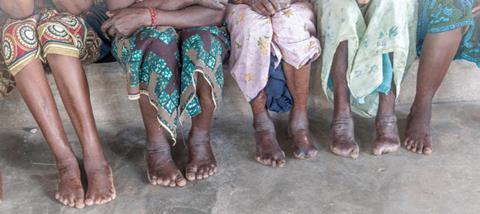 Philippa Hanna had just finished a seven-week tour supporting Britain's Got Talent winners Collabro when the call came from The Leprosy Mission asking her if she wanted to go to Mozambique to front their latest charity campaign video.
Leprosy is not a disease on most people's radar. But a memorable encounter with a man disabled by leprosy on a childhood family holiday to Bangkok stuck in the Sheffield-born musician's mind. It was a request she couldn't turn down.
A RESOUNDING 'NO'
Before becoming a Christian a decade ago, Philippa was plugging away at breaking onto the UK music scene, applying to and receiving what seemed like a never-ending and resounding 'no' from talent shows.
Fear and insecurity took their hold on her, telling her she wasn't beautiful enough to make the world of 21st century celebrity. Despite her unmistakable talent, the singer felt ostracised and rejected by the music business. But a spiritual epiphany, which she openly talks about in her 2013 book Following the Breadcrumbs (Authentic) led her to use music as a medium to communicate with young people suffering from low self-esteem and body image issues. In fact, her best-known song is the autobiographical 'Raggedy Doll'. The lyrics tell of being beautifully and wonderfully made despite often wishing we'd been 'stitched' in some other way.
'WHAT'S WRONG WITH THAT MAN?'
Africans battling the horrific effects of leprosy seem a far cry from young girls suffering from eating disorders in the UK, but to Philippa there was a clear connection. It was this that drew her to the mission field.
'I remember first encountering leprosy when going to Bangkok as a child with my family and my dad giving some money in the street to a man who was suffering terribly from its effects,' the singer recalls.
'I remember asking, "What's wrong with that man?" as the poor fella was badly disabled. Then I became scared and terrified at the same time – what if we all got leprosy? I had this ridiculous experience of waking up in the middle of the night having lain on my arm, which made it go numb. I had pins and needles in it.
'Because of what my dad had told me about leprosy causing numbness, I thought I could actually have leprosy. I remember waking my parents up in the night because I was so scared. I think my dad was a bit angry with me because he thought I was being daft. But it made me realise that even as a child you can absorb fear really easily. It also speaks a lot about this disease; there's still so much stigma and fear.
'When I heard about The Leprosy Mission's work it brought back this memory. As I found out more about the disease and the stigma surrounding it, it really touched my heart. There is no one who would understand the experience of feeling marginalised so much as someone affected by leprosy.
'We need to remember that a body that has been changed through leprosy is still so precious to the one who made it. These people need to know they are beautiful and valued and it's a huge thing for their self-esteem as they come up against people's view of them.'
A SENSE OF PURPOSE
So off to Mozambique went Philippa and husband Joel Cana, drummer for the now disbanded indie/rock band The Gentlemen.
Philippa reflects: 'We went to Mozambique to serve, to learn and show people kindness but I have never felt such a sense of purpose. I didn't expect to feel it but it just felt as if everything was really clear and vivid. I just felt alive.
'I was expecting to feel pity and sadness for these people who have next to nothing but I actually felt that our lifestyle in the West is quite burdensome. The only thing lacking in their society is medical services, health education and basic provision. If we can provide these things then they have everything they need.
'I came back from Mozambique thinking that the most useful thing we can do is love someone and that there's never an age or a situation that can change that.
'It is an amazing remedy for someone who feels like they've lost the edge on their faith. I would strongly advise anyone who feels this way to go and do something like this. It puts you in a situation that God carries you through; it sharpens your senses.'
A SHIFT IN PERSPECTIVE
Philippa said that a trip to the mission field was the perfect antidote to her recent seven-week tour, where her hair and make-up were done every night.
She says: 'It makes you realign your perspective in a really good way. Most of the work I do in ministry is with young people, [exploring] their self-image. I meet a lot of young people with eating disorders and who self-harm. But it often seemed that in the poor communities of Cabo Delgado in Mozambique these things aren't even on people's minds.
'One gentleman I met will always stay with me. He wished he could work but his feet were so disfigured as a result of leprosy that he couldn't farm the land and provide for his family. He felt totally useless. It forces me to think that when you have got those immediate needs, things like your self-image are at the bottom of the list.
'I believe you're supposed to be able to care about what you look like without caring too much. We saw that in some of the girls we met out in Mozambique. There was a bit of self-consciousness about their disfigurement. And as a woman that touches me, as I want to make them feel that they are lovely, special and unique.'
You can find out more on Philippa Hanna's trip to Mozambique for the Feet First project at leprosymission.org.uk