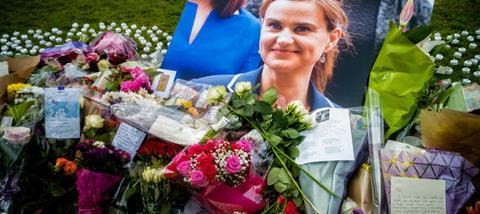 The vigil for Jo Cox MP in Parliament Square on Friday was a deeply moving occasion. The plan had been for there to be a two minute silence ?at 8:00?. In fact, hundreds of people stood in respectful silence ?from 7:30 till 8:15?. That silence spoke more eloquently than words could of the deep feelings shared in that moment: shock, horror, fear, anger, deep sadness, and a steely determination that this kind of violence does not define us. That we are kinder and gentler, and that, in the words of Jo Cox herself, 'far more unites us than divides us.'
It was a moment of humble, saddened and tender humanity in response to the barbarism of Jo Cox's murder.
Brendan Cox, her husband, wrote a moving tribute to her following her death, calling on people to 'unite against the hatred that killed her.' ?At 8:15? at the vigil, speeches from three Labour MPs - Wes Streeting, Harriet Harman and Ed Miliband - echoed these sentiments. In the minutes that followed, the crowds spontaneously sung, in hushed tones, Red Flag and Jerusalem.
Yet just a couple of minutes later, I watched as a journalist was brought to tears by members of the same crowd hissing at them and insulting them, telling the journalist to be ashamed by their work.
As a Christian, I know that we all are sinful at heart, so perhaps this shouldn't have been so shocking. But it was.
And yet, again, from my few years working in politics, this was nothing new. It is a great privilege to work in politics; but you still encounter too much hate, and too little compassion.
I have only been in Parliament for four years, and yet these are just a few of the things I have seen or heard of:
an MP and parent feeling heartbroken and helpless at the news his children were being bullied at school because of his work, seemingly by other children egged on by their own parents
another MP almost too fearful to speak to press or in the House of Commons because of the vitriol they subsequently face from some people whenever they do
endless streams of hate-filled emails and letters from those who take different political views to their MP
multiple MPs quitting because the strain on their young families is unbearable
increasingly frequent threats of violence against MPs
I could go on.
People will say that MPs are well-paid and greatly privileged, and should be prepared for robust opposition if they choose to go into public life. To a point, I agree - and MPs certainly would.
But rather than looking at them, let's look at ourselves - particularly as Christians. I remember hearing a story of an MP telling a Christian constituent that the most aggressive and hostile letters he got came from those who called themselves Christians. Isn't that heartbreaking?
Often the most compassionate and loving contributions to the public square come from Christians; but also too often it is Christians who most quickly jump to character assassinations, and reach for judgemental and apocalyptic language. There can be something gratifying about employing dramatic, judgemental, prophetic language; and so, though sometimes that is appropriate, perhaps we are too quick to do so.
Too often it is Christians who most quickly jump to character assassinations, and reach for judgemental and apocalyptic language
By the grace of God, we do have 'the words of eternal life' and we are to live servant-hearted lives standing for justice and mercy - but we are also told to love our enemies and pray for those who persecute us (Matthew 5), to respect the ruling authorities (Romans 13), not to judge (Matthew 7), not to be vengeful (Romans 12), to love our neighbour (Mark 12), to live peaceably with society (Romans 12), and to lead upright and respectable lives (1 Peter 2).
Looking at the current tone of our society's political discourse, surely if we did these things we would stand out as more patient, loving and gentle than those around us - and certainly not as less so?
What if we paused before jumping to the conclusion that a politician we disagree with is out to 'get' Christians? What if we were more wary of assuming that a leader who holds a different view on an important issue must lack integrity, and is only out for themselves? What if we were less quick to invoke God's name for our own personal political views?
Our example is Christ, who loved his enemies and prayed for his persecutors
What if we were slow to anger, and abounding in love? Not compromising on the Christian content of our contributions; but also not compromising on the Christian tone of our contributions? I suspect we would be far more respected, far more listened to, and far more effective - and even if we were not, what matters more is that we would be more faithful to the character of God, seen in the love and justice of Christ. After all, our example is Christ, who loved his enemies and prayed for his persecutors.
Yes, a truly Christian engagement with society will include moments of righteous anger, and of pointing to serious moral failures in leaders and wider society - but surely it also means fewer personal attacks, less demonising, and less divisiveness than we see from the rest of the political scene? In the current climate of politics and social debate, that would be truly, Christianly, distinctive.
Johnny Monro works as a researcher and speechwriter in the UK Parliament