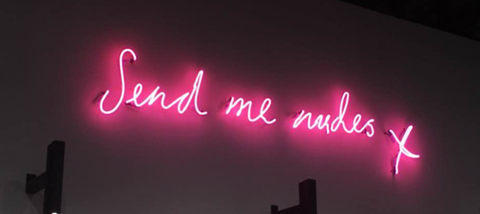 On Monday, Missguided announced that it was removing a 'Send me nudes' neon sign from its Bluewater store in Kent following an online petition. Created by Girls' Brigade England & Wales President Rachel Gardner, and her friend Rebecca Rumsey, the petition received over 9,300 signatures (and counting). The support via social media for our cause was incredible. Read the full story here.
The sign was a clever play on nude lipsticks but many perceived a more grim, disempowering and cynical undertone encouraging underage girls to sext. This petition was supported by many people beyond the Christian community and was featured in articles by Cosmopolitan, Evening Standard and Daily Telegraph. It's a fantastic example of how Christians can mobilise others in the fight against injustice. In the face of consumer outrage, Missguided swiftly acted and removed the sign.
GB member Chloe (16) from 1st Hawkwell is thrilled by the response. "This petition was 100% important because so many young girls shop in Missguided. This sign is making them think 'sending nudes' is acceptable and part of everyday life when it's clearly not."
In a culture which is increasingly choosing to sexualise girls and encourage them to self-objectify themselves, Girls' Brigade England & Wales believes that this act of resistance is significant for a number of reasons...
Sexting is harmful and can be illegal
In May 2017, the UK Council for Child Internet Safety published new research demonstrating that girls were more likely to report negative experiences and to feel anxiety and pressure to send nude images. Once online, these images can be seen and used by anyone, making girls and vulnerable young women the victims of bullying, revenge porn and exploitation.
It's illegal in the UK for nude images of under 18s to be created, sent and shared. 'Send me nudes' legitimises the culture of sexual coercion that teenage girls and young women experience daily. As Rachel Gardner highlighted: "Young people feel under immense pressure to perform and conform to sexual norms; the message 'Send me nudes' from a nameless, faceless voice can only be seen as exploitative and coercive."
Over 45,000 girls are members of Girls' Brigade across the UK and Ireland and they've spoken out about why they feel passionate about this issue too. Megan (16) from 1st Hawkwell shares: "Living in a culture where there is a pressure to send people 'nude pictures' can be really challenging because you're made to look like an outsider just for saying no." Rebecca (17) from 1st Amesbury adds: "Young girls live with enough pressure from today's society, and some girls regularly get asked to send nudes by prospective partners and other boys. Sending one picture can lead to complete destruction in a young girl's life."
GB has responded through koko, an initiative of Girls' Brigade Ministries, launching its 'Worth The Wait' film empowering young people to make healthier sexual choices (online and offline).
Resisting self-objectification as a norm
Companies like Missguided are more than fashion businesses; they're powerful, global brands who communicate specific ideals of femininity through marketing. Signs like 'Send me nudes' encourages girls and women to sexually objectify themselves.
We live in a sexual objectification culture which treats – primarily – women like commodities, largely ignoring their personality, talents and giftings. This objectification culture is marketed to be empowering for women but, the truth is, it's fundamentally disempowering for everyone concerned. A subject acts but objects are always acted on. There is no power in being a sex object – it will always be a less equal and passive position.
Missguided's 'Send me nudes' sign bolsters a culture where girls feel their bodies are projects to be improved upon. It fuels a society that makes many girls and women feel that they're not enough. It enslaves many girls by encouraging them to self-objectify themselves via nude selfies. It encourages girls to conform to a narrow and unrealistic ideal of beauty and strive to have a flawless, skinny, hairless and taut body. It robs many young people of their self-worth, reducing them to a collection of body parts to be scrutinised. It also conditions boys to view girls simply as being created for their own sexual pleasure fueling harassment and violence. It strengthens the roots of gender injustice in our culture.
Cultivating a culture of worth for all
Unfortunately we don't live in a world which fosters a culture of worth. Children and young people are growing up in a society where people's value is defined by what they look like, what they do, how much they earn, academic achievements and how many likes they achieve on social media; these are paradoxical messages that subvert their identity as image-bearers of God with unchanging value and worth.
Identity theft is happening, right here, right now.
The Bible teaches each of us that we're image-bearers of the King of Kings. Each of us has equal worth and value regardless of what we look like or our gender, age, race, ability etc. This is the hopeful message that Jesus brought to us and he's calling us to follow in his footsteps today.
It starts with small acts of resistance. It begins with making a petition which advocates for girls' dignity and God-given value. It progresses with the Church refusing to accept the status quo and instead choosing to raise hope for girls.
Girls' Brigade England & Wales believes it's time for a new hope-filled narrative for girls. Girls and women have so much more to give to the world than just their naked bodies. Let's enable them to be the generation-shapers, hope-bringers and transformers of culture that God created them to be.
This act of resistance has been successful but there is still so much to do. Join Girls' Brigade in turning up the volume of hope for girls. Cultivating a culture of worth for all of God's people starts with us.
Dr Claire Rush is Participation & Advocacy Co-ordinator for The Girls' Brigade England & Wales and Vice-President of Girls' Brigade International