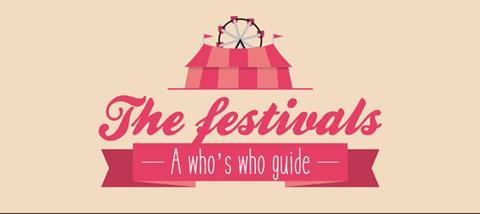 One of the many quirks of Christian culture is the way so many of us jump at the chance to camp in a muddy field for days – or even weeks – at a time. Despite the abysmal weather they've often been gifted, Christian festivals across the UK have endured, and in doing so earned a glowing reputation. This means that tens of thousands of us will leave the comfort of our homes this summer to enjoy not just a holiday, but a life-changing encounter with God. Still wondering which festival to attend? There's a wealth of options to choose from. One of the strengths of this year's events is the international flavour as every event features at least one speaker or worship leader from outside the UK. So here are some familiar faces (and a few new ones) from around the world who you can expect to see in a hopefully-not-too-muddy-field-near-you this summer.
Conrad Mbewe
Bangor Worldwide Missionary Convention
Hamilton Road Presbyterian Church
19-27 August
Who is he?
Conrad Mbewe is the first pastor of Kabwata Baptist Church in Lusaka, Zambia. The preacher is fondly known as the 'Spurgeon of Africa'. Mbewe himself isn't sure where the appellation came from, but explains: 'There is nothing about Spurgeon that I would be embarrassed to be associated with, and so I do not mind it.' The comparison may have something to do with Mbewe's punishing schedule (Spurgeon has been described as a workaholic). Mbewe edits the Reformation Zambia magazine, chairs boards for schools, manages an orphanage, has a weekly radio slot, trains preachers and plants churches through indigenous missionaries. But he is best known for his powerful preaching. He has also taken a firm stance against the prosperity gospel teaching that is prevalent throughout many parts of his country.
Why go?
Founded in 1937 by Herbert J Mateer, the event has been held annually ever since and will celebrate its 80th anniversary this summer. It has a unique and sole focus on promoting worldwide mission. The event is interdenominational, international and evangelical.
>
Jesus Culture
Big Church Day Out
Wiston House, West Sussex 28-29 May
Who are they?
Jesus Culture is a community of worship leaders and musicians based in Sacramento, California. The movement, which began as a youth group in 1999, has released nine live albums and 20 solo albums to date. They place a strong emphasis on seeking and experiencing God's presence, and on wonders, including visions, healings and speaking in tongues. Their sound has been described as passionate, raw and powerful. Their covers of songs including 'He Loves Us' and 'Your Love Never Fails' have been widely heard and commended by Christians and churches across the world.
Why go?
Big Church Day Out is a weekend-long music festival that is expected to attract 25,000 people and will also feature music from Tim Hughes, TobyMac and Phil Wickham
>
Danielle Strickland
New Wine
Royal Bath & West Showground, Shepton Mallet
Week 2: 31 July-6 August
Who is she?
As an international speaker, author and Salvation Army officer, Danielle Strickland has impacted people all over the world. She has many stories to share about rescuing those caught up in drugs, homelessness and prostitution, and often speaks to Christian audiences about holiness, justice and evangelism. In an interview with Premier Christianity magazine, Strickland said: 'I think we've been in love with comfort, so the Church has vacated the neighbourhoods where it's needed most. It's a lot easier to preach a spirituality message than a social reform one if you're not living differently, but we can't properly live out the gospel without it being uncomfortable.' Delegates at the second week of New Wine will no doubt hear a similarly challenging and moving message.
Why go?
Organisers say: 'For over 20 years we've gathered together in a profound expression of unity which has not only shaped the New Wine movement, but also impacted the faith of countless individuals as they have encountered Jesus afresh. This year's national gatherings will be bigger and better than ever, with plenty on offer for all ages, including a full programme of seminars, extended kids' work, a youth stream, sports and activities, cafés, art workshops, late-night entertainment, a marketplace packed with resources and volunteering opportunities, and a big family funfair!'
Rambabu
The ONE event Lincolnshire Showground
26-30 August
Who is he?
Growing up in the majority Hindu state of Karnataka in India, Rambabu hated Christians and the God they represented. When Gideon Bibles were distributed, he would burn them. As a Brahmin (the highest caste within Hinduism) he rejected all other faiths. As a youngster he started to drink and smoke in secret. His academic studies were suffering due to his addictions, so he took on extra classes at a local college. On his way there he passed a church. Hearing singing and clapping coming from inside, he went in and sat at the back. It was the first time he had ever been into a church building. Rambabu's hate for Christianity at this point in his life was so strong that he threw stones at people during the service. But the meeting carried on. At the end, the preacher declared that God could heal any problem or sickness. Rambabu was incensed at this bold claim. His friend was deaf and mute, but no doctor or Hindu priest had been able to help. Rambabu took her to the church, and during their second visit she was dramatically healed. On top of this, the preacher told Rambabu that Jesus could set him free from sins and bad habits. He was shocked and wondered how this man could know about his personal struggles. On the 21st January 1983, Rambabu finally repented of his sins and asked Jesus into his life. A modern-day Saul, he went from persecuting Christians to helping to build up the Church. Today he works as an evangelist, is the founder and president of New Creation Ministries and senior pastor of Holy Spirit Generation in Bangalore, Karnataka. His ministry takes him all over the world as he preaches the gospel and prays for healing. Those who minister with Rambabu say they have witnessed the healing of illnesses and disabilities including deafness, cancer and blindness.
Why go?
The ONE event (previously known as Grapevine) is now in its fifth year. Organisers say the festival is about being 'refreshed, empowered and finding a strong sense of unity across a variety of streams and networks'. The theme for 2016 is 'together'.
Nadia Bolz-Weber
Greenbelt
Boughton House, near Kettering
26-29 August
Who is she?
Nadia Bolz-Weber is the founding pastor of House for All Sinners and Saints in Denver, Colorado, and the author of Accidental Saints: Finding God in All the Wrong People (Canterbury Press). As the title of her church and book suggest, Bolz-Webber is not your average church leader. It has been reported that she takes 20 hours to prepare her ten-minute sermons but her website states: 'Nobody really believes she's an ordained pastor in the ELCA. Maybe it's the sleeve tattoos or the fact that she swears like a truck driver. Either way…she's fine with it.' She has been described as 'America's pastor for outsiders' and her route into the priesthood came via alcoholism and stand-up comedy. Today, around one-third of her congregation is part of the LGBT community. Read our full profile interview with her in next month's Premier Christianity.
Why go?
Greenbelt explores faith, arts and justice issues. It has existed since 1974 and this year will include contributions from the Archbishop of Canterbury, Justin Welby, theologian Elizabeth Oldfield and peace activist Satish Kumar. A spokesperson said: 'Greenbelt creates a space, not an agenda. It makes a space for people of all faiths (and none) to explore and test their beliefs in a safe environment. It's very much a festival, not a conference. Rooted in the Christian tradition, it is inclusive and culturally engaged. It's a place where, having learned their scales, believers can begin to improvise.'
Rachel Gardner
Keswick Convention
Keswick Convention Centre, Skiddaw St, Keswick
Week 2: 23-29 July
Who is she?
Rachel Gardner is president of the Girl's Brigade and founder of the Romance Academy, a national charity that supports youth leaders, parents and teachers in talking with young people about healthy relationships and sexual health. She is a keen campaigner on youth-related issues and lives in north London with her vicarin- training husband and daughter.
Why go?
This year's Keswick Convention is titled 'Power to change: Becoming like God's Son'. The event will include teaching on how Christians can overcome the pull of sin and live godly lives in today's world. Steve Brady (principal of Moorlands College) is the Bible Reading speaker for week 2.
Lou Fellingham
Devoted
Newark Showground, Newark
25-29 August
Who is she?
Lou Fellingham is best known for fronting Christian worship band Phatfish (1994-2014). Both during and since that time she has performed much-loved songs including 'There is a Day', 'Amazing God' and 'Holy, Holy (Lift Up His Name)'. Her latest album is Fascinate.
Why go?
Now in its second year, Devoted is a relative newcomer to the Christian festival scene. With concerts, poetry-reading events, open mic nights and sports activities, there will be plenty on offer. The event will also feature Lifezones: interactive teaching times on subjects including marriage, creativity and hermeneutics. Organisers say the event focuses on all-age family worship celebrations, biblical teaching and fun.
Roger and Faith Forster
Revive!
Ashburnham Place, East Sussex
30 July-6 August
Who are they?
Roger and Faith Forster are the founders of Icthus and will be leading the group's annual event Revive! this summer. Roger began his ministry as a travelling evangelist before establishing Ichthus Christian Fellowship alongside his wife, Faith, in 1974. He is also known for his work with Gerald Coates and Graham Kendrick in birthing the March for Jesus movement. Today he is honorary vice president of Tearfund, serves on the Evangelical Alliance's council and continues to lead the church he founded. The couple are both authors and have together written Prayer: Living in the Breath of God and Women and the Kingdom (both PUSH Publishing). Around 130 other churches in the UK and Europe are now linked with Icthus Christian Fellowship.
Why go?
Every summer since 1992, Icthus has met at Ashburnham to get away from life's distractions and focus on a time of worship, Bible study and fellowship. More than 1,000 people are expected to enjoy a mixture of accessible practical theology for new believers and deeper Bible study this year.
Rend Collective
Momentum
Soul Survivor Stafford Showground, Weston Road
22-26 July
Who are they?
Rend Collective are a Northern Irish experimental, folk, rock worship band. Since their debut release, Organic Family Hymnal in 2010, the collective has been catapulted to worldwide fame. They now tour extensively on both sides of the Atlantic and have shared the stage with friends including Chris Tomlin and Matt Redman. 'We aren't really so much of a band as we are a family,' explains Rend frontman Chris Llewellyn. 'People are more important than music, art or apparent success.' Crowd favourites 'Build Your Kingdom Here' and 'My Lighthouse' are bound to be heard blasting out of a big top in Stafford this summer.
Why go?
Over the past two decades, Soul Survivor has established itself as the definitive Christian festival for young people. Many thousands have made commitments to Christ at the event, which features exuberant worship and passionate preaching. While Soul Survivor is for teenagers, Momentum is designed for students, 20s and 30s. A spokesperson said: 'The thing we're always most excited about is having lots of time to worship together, to hear from God's word and to pray for one another in the power of the Holy Spirit. Nothing beats spending time in God presence! Plus there will be opportunities to hang out with friends and get to know new people.'
Bill Johnson
Focus
Somerley Estate
22-29 July
Who is he?
Bill Johnson agreed to pastor Bethel Church in Redding, California, on one condition: 'I was born for revival and would pursue revival – this was not negotiable.' Having been greatly impacted by the ministry of John Wimber, Johnson began to pray earnestly for God's kingdom to break in. He reports that healings and miracles have now become 'normal' for the church. He writes: 'Many visit Redding weekly, hoping that God will touch them. I am happy to report that many leave well and whole. But many others leave in the same condition in which they came. I refuse to blame God for this, as though He has a purpose in their disease. While Jesus did not heal everyone alive in His time, He did heal everyone who came to Him. His is the only standard worth following.' Reports of supernatural happenings, including a much-discussed 'glory cloud' – a sparkling gold cloud that seemed to appear at the side of the stage during several worship services – has given both Johnson and his church an international reputation. Bethel has plenty of detractors and critics, but Johnson is adamant: 'The church has been gathering together for decades around a sermon. Israel camped around the presence…the presence of God is the greatest gift we have.'
Why go?
Organisers say the event is for God's church family to 'share food, tell stories, encourage, laugh, dance, pray, comfort and be filled with the Holy Spirit'. The event is the annual teaching holiday for Holy Trinity Brompton (HTB), members of the HTB network of churches and Alpha partners.
Words: Sam Hailes and Lizzie Turner