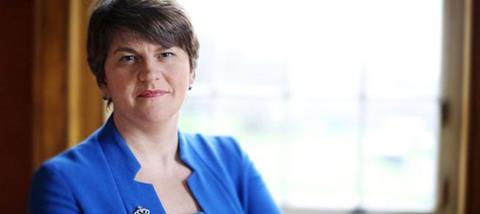 There has been a lot of irresponsible and uninformed comment about the DUP since talk of a deal began.
My work involves meeting with all the parties here in Northern Ireland while remaining politically neutral. I am not a member of any political party.
For five years I worked as a barrister representing those I agreed with and those I didn't. That objectivity can be helpful when it comes to looking at some of the facts surrounding one of the many parties we work with, who now find themselves at the heart of government. So here are seven things worth knowing about the DUP:
1. They are neither left nor right. They are often seen as right of centre because of their views on security and social issues. However, many of their voters are working class and they opposed aspects of the Conservative manifesto including welfare cuts while supporting the triple lock on pensions and the winter fuel allowance.
2. They favour a soft Brexit. The DUP have been strong supporters of Brexit, but Arlene Foster wrote a letter with the late Martin McGuinness calling for flexibility on the Irish border, ease of trade with EU member states and access to both skilled and unskilled labour. Northern Ireland has the only UK land border with Europe, and wants to maintain strong relationships with Ireland.
3. They understand the difference between extremism and terrorism. Many people in Northern Ireland are being labelled as extremists for having socially conservative views on marriage and the beginning and end of life. However, those same people, including members of the DUP have had personal experience of terrorism. The loose use of 'extremism' for political point scoring will ultimately undermine attempts to legislate against terrorism.
4. The redefinition of marriage is a devolved issue. Ruth Davidson, who leads the Conservatives in Scotland, wants to protect LGBT rights in Great Britain and campaign for change in Northern Ireland. However, she also wants to stop the DUP from protecting marriage in Northern Ireland while campaigning for change in the rest of the UK, which hardly seems fair. The matter is devolved, meaning it is for the Northern Ireland Assembly to decide whether to redefine marriage and the DUP do not appear to have raised it in the negotiations. It is worth remembering that about 160 countries in the world hold to a traditional understanding of marriage, with only a handful changing. Northern Ireland is with the majority.
5. The DUP are pro-women and pro-children. When it comes to abortion, the DUP, like most politicians in Northern Ireland, are pro-life. Their policy is that both lives matter and this is reflected in Northern Ireland's laws which balance the life of the mother and the unborn child. There is no appetite to see the 1967 Act introduced in Northern Ireland and like marriage it is a devolved matter.
6. They are experienced negotiators. The DUP have been involved in a lot of peace talks. They have already caught the Conservatives out once, when the Tories announced an early deal. They are unlikely to enter a formal coalition and have been clear they will try to extract as much as possible for the people of Northern Ireland from any deal.
7. They have experience sharing power. The DUP and have been involved in a mandatory coalition with Sinn Féin for over ten years, so they are used to working with people they strongly disagree with. However, there are concerns that any deal with the Conservatives could delay or undermine the restoration of the Northern Ireland Assembly.
A Premier explainer on the DUP
The Democratic Unionist Party (The DUP) is a unionist political party in Northern Ireland, which was founded by Ian Paisley in 1971.
They are 'socially conservative'. They are anti-abortion and demonstrated their opposition against same-sex marriage in their campaign against the legislation of homosexual acts in Northern Ireland.
The party leader, Arlene Foster, is a devout Christian. A reporter once described how she "lives her Christian principles every day of the week." Despite controversy around the traditional values held by the DUP, Mrs. Foster states that their Christian values will not change.
The DUP are pro-Brexit but its manifesto argues for maintaining a 'seamless and frictionless' border with Ireland.
They list their main priorities as:
Creating more jobs, prioritising spending on the health service, investing in infrastructures for the future, protecting family budgets and raising standards in education for all.
There will be increased scrutiny of the DUP over the coming days and no doubt old quotes and difficult stories will surface. Questions should rightly be asked of those who seek political office and want to be in government. However, the reporting and coverage must be fair. When Ruth Davidson said she put LGBTI rights above her party, no-one challenged her on it. Compare that to the treatment of Tim Farron being grilled over his faith or the unchallenged comments in the media about the DUP.
This election has shown us how divided our society is on multiple levels. Now is the moment to take seriously the biblical command to pray for those in authority.
A good friend of mine talks about honour in this way, "When you honour someone, you say their name differently - their name is safe in your mouth." How safe are the names of our politicians?
Peter Lynas is the Northern Ireland director of the Evangelical Alliance
Click here to request a free copy of Premier Christianity magazine