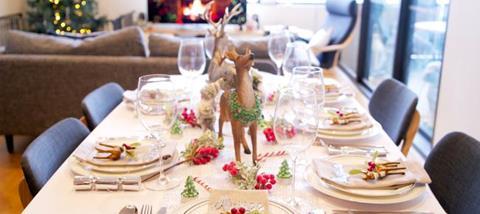 "Christmas is saved", proclaimed one Twitter hashtag as the government announced an easing of restrictions over the festive period. Many responded with relief, hoping to eke out at least a little joy from this season after such a painful year. But many remain uncertain about the wisdom of mixing more households together.
As one of the 2.2 million identified as extremely clinically vulnerable, in isolation within my home for much of the past year, I would like to offer some reflections – and challenges – on why I believe that we should be keeping our contacts to a minimum this Christmas.
Over 60,000 people in the UK have died with Covid-19 as a main cause over the past nine months, according to the Office for National Statistics. Tens of thousands more are living with long-term complications from the virus. Indoor gatherings are a primary factor in the spread of the disease – yet we are now invited to take five days off from the restrictions.
We might be eager to see isolated family members. We might glimpse a respite from the relentless undermining of our mental health. We may want to make our own risk-assessments and honour the wishes of vulnerable family members who want to see us. Unfortunately, this often means making decisions of risk for others too; the carers who go into their homes, the NHS staff who look after them in hospital.
Many scientists suggest that this sudden easing of restrictions may lead to further spikes of the virus which would, in turn, lead to a further downturn in the economy, lost jobs, poorer mental health, the overload of the NHS and further deaths.
Many of us who are shielding have noticed a new narrative of ageism and ableism, where civil rights are afforded more importance than the lives of the vulnerable, so often perceived as less worth living. Over these five days of Christmas, will the most vulnerable become collateral damage under the auspices of 'saving Christmas' for everyone else? Will those five days be worth more deaths and disabling instances of Covid-19 – or issues resulting from other illnesses which the NHS cannot treat due to the spread of the virus? With the vaccine news looking very positive, should we not hold back on time with loved ones and celebrate later?
All of these are difficult questions, but if we look to scripture for guidance when it comes to balancing matters of personal fulfilment and supporting wider society, we find an upside-down narrative there; we find a kingdom that prioritises the least and puts self in second place.
In Philippians 2, Paul writes about Jesus humbling himself and exhorts us to follow his example: "In humility value others above yourselves," he says, "not looking to your own interests but each of you to the interests of others". Jesus made himself nothing, laying aside his rights, taking on the nature of a servant and becoming obedient even to death. We should have the same mindset as Christ, the same humility that took him to the cross.
Throughout scripture, God contends for the weak, for those on the margins of society, with selfless compassion and love. Jesus displays this radical inclusion in his encounters with everyone, turning the idea of the weak and the strong around, putting himself aside for others. We should be seeking together to emulate Jesus' love in action in our own lives.
Perhaps that will mean that we decide we shouldn't be meeting together with family members in person this year – particularly with those who are vulnerable. It may mean that we will take extra precautions in our bubbles. We could respond by being careful to avoid piling any emotional pressure onto our loved ones when they may wish to stay isolated. We could also allow other family members to meet together by gracefully withdrawing ourselves.
Christmas, after all, started with a baby born in the most austere conditions. As we celebrate this most wonderful gift, let's choose to lay our own rights aside and show compassion for those who are weakest. Let's "shine like stars" (Philippians 2:15) and work together for the sake of a hurting world longing for integrity and justice.
Christmas doesn't have to be saved, because Christmas saved us. The essence of Christmas is our consolation, whether we are disappointed or waiting or weary. We can celebrate even when we are broken apart by circumstances that seem too crushing for us. We celebrate not because of, but despite those things; we celebrate Jesus, Immanuel, God with us.
And as we seek to follow his example, we are launched into the glorious liberty of the very heart of the Christmas message; the freedom of love come down, the beauty of profound peace upon this broken earth.
Liz Carter is the author of Catching Contentment (IVP) and Treasure in Dark
Places (Capstone House). Her new advent devotional, Advent Treasure (Capstone House), is out now.
Premier Christianity is committed to publishing a variety of opinion pieces from across the UK Church. The views expressed here do not necessarily represent those of the publisher