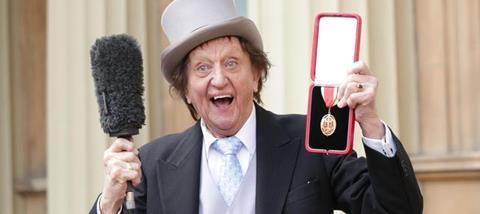 Dodd, meet God. At the age of 90, Kenneth Arthur Dodd has finally hung up his tickling stick and is knock-knocking on the pearly gates.
One of the finest comedians of the last century, his formidable comedy career spanned music halls, the early days of light entertainment television and modern-day theatre tours.
Sir Ken was equally at home at the end of the pier, on the London Palladium stage and even at the top of the charts – 'Tears' was the UK's best-selling single of 1965 (The Beatles were at number 3 and Elvis was at number 4; in fact in the 1960s, Ken's song was only outsold by 'She loves you' and 'I want to hold your hand').
Early days
If Sir Ken used his voice to spread God's joy, it began in the church, singing in the choir of St John's Knotty Ash, Liverpool.
He spoke of his Christian faith in a 2007 edition of Songs of Praise, noting that he prays before each performance. He later described the Book of Common Prayer as his "guide to life". When asked about religious jokes, he said they were off-limits: "It's not right that people should poke fun at the Christian religion. My God has been very good to me."
Arguably God has been very good to us, appointing Sir Ken as the nation's favourite court jester. His stage act was filled to the brim with pure unadulterated joy – no agenda, polemic or opinion, but the very essence of good, clean fun.
As a child, his interest was piqued by an advertisement in a comic: "Fool your teachers, amaze your friends – send 6d in stamps and become a ventriloquist!" His first shows saw him entertaining children at the local orphanage. Thus began a vocation to the stage, a long-running career of famously over-running performances. Doddy was all about quantity and quality, doling out jokes by the bucketload.
Joy-filled atmosphere
In common with other famous comics with a Christian faith – comedy descendants like Tim Vine and Milton Jones – his focus was on lifting the whole crowd, not just a niche group of fans. The atmosphere of sheer joy at these shows today owes a debt to Doddy; in each case you have to be there, caught up in the live experience of one bizarre individual with mad hair facing the rest of us with one intention: to make us laugh our socks off.
He was a walking talking reminder that comedy's sole goal is to spread joy
Known as a professor of comedy, his home (birthplace and deathplace) housed more than 20,000 books on humour. Above all, he was a walking talking reminder that comedy's sole goal is to spread joy.
Alas the talking has stopped, but we can walk in his footsteps, and remember that while there is a time to mourn, there is a time to dance, a time to weep but oh my there's a time to laugh, and that time can go on and on.
A recent joke from the great man asked: "Did any of us in our wildest dreams ever think we'd live long enough to see the end of the DFS sale?" I'm not sure if you managed that sir, but from the comfort of my seat may I misquote your song 'Happiness': "I thank the Lord that you've been blessed, with more than your share of happiness."
Paul Kerensa is a stand-up comedian and writer
Click here for a free sample copy of Premier Christianity magazine