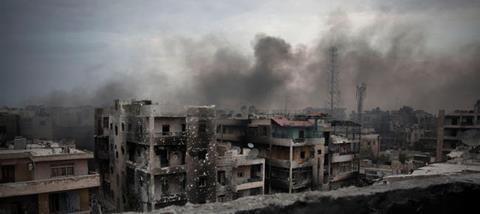 Speaking to ITV news he said, "It's the absolute contempt for the human spirit. For the dignity of the human being. "It's the brushing aside of the poor and the weak and the fragile in a way that is as bad as anything we've seen in the last century." The news comes as French president François Hollande suggested recent Russian air strikes on Aleppo could amount to war crimes.
Syrian Observatory for Human Rights estimates the total number of civilians and fighters killed to be around 430,000 since the start of the conflict in 2011.
According to the latest estimates, over 4 million refugees have fled the violence in Syria, while over 7 million people are internally displaced.
Meanwhile, Open Doors has said five out of every six Christians have fled from neighbouring Iraq since the coalition invasion in 2003.
The refugee crisis which has partially resulted from the ongoing war in Iraq and Syria has continued to affect Europe.
Concerns are growing for the hundreds of unaccompanied children living in the Calais camp. The former Archbishop of Canterbury Lord Williams and five bishops have called on the Prime Minister to allow nearly 400 migrant children living in the camp to come to Britain.