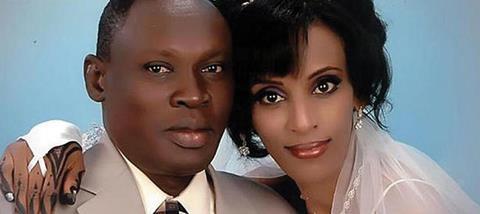 (UPDATE 23/06/14: The Sudanese Supreme Court has repealed the apostasy sentence of Meriam Ibrahim and ordered her release. Read the full story from Premier.)
Meriam Yahia Ibrahim gave birth to her second child, a girl, in prison in May. She is married to Daniel Wani, a Christian Sudanese with US citizenship.
It is illegal in Sudan for Muslim women to marry Christian men. Ibrahim's Ethiopian Orthodox mother brought her up as a Christian when her father, a Muslim, left the family; however, in Sudanese law she is regarded as a member of her father's faith.
Asked if she would formally convert to Islam, she is reported to have said: 'I am a Christian, and I will remain a Christian.'
She is being held shackled in prison in Khartoum with her 20-month-old son Martin. She will not be executed until her daughter is two years old, allowing time for her to nurse her child.
Her lawyers have lodged an appeal against the sentence, which has been received with shock and outrage. The chief executive of Christian Solidarity Worldwide, Mervyn Thomas, called for the 'inhumane and unwarranted' sentence to be annulled and for Mrs Ibrahim to be released.
An Amnesty International petition for her release has gained more than 650,000 signatures and a cross-party resolution in the US Congress has been introduced condemning Sudan's actions. US Secretary of State John Kerry is also under pressure to act.
There were reports at the end of May that she would be released, however the Sudanese foreign ministry confirmed that Ibrahim could only be released after a successful judicial appeal.
Ibrahim's situation reflects the ambiguity of Sudan towards non-Muslims. Article 38 of the country's interim constitution says that 'no person shall be coerced to adopt such faith that he/she does not believe in, nor to practise rites or services to which he/she does not voluntarily consent'. However, article 126 of Sudan's penal code says that apostasy is punishable by death.
Her case also poses problems for diplomats. No one has yet been executed for apostasy in Sudan under the 1991 penal code. However, too much overt international pressure may be counter-productive, making it more difficult for Sudan's president, Omar al-Bashir, to agree to demands for her release.