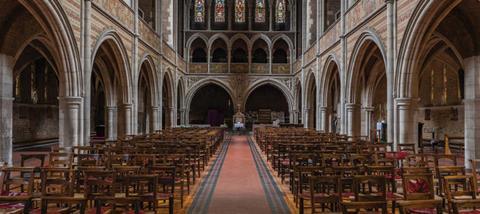 The research showed that around two-thirds of those who no longer attend church still have a strong personal faith but are using less formal avenues such as the Internet to pursue it. The survey found that most of the 1,300 Scottish Christians questioned who no longer attend have found alternative ways to worship.
The book's author, Dr Stephen Aisthorpe, believes Christianity is 'in transition, rather than in decline'. He told The Independent: 'Changes in wider society and in the practices of Christian people mean attendance at Sunday morning worship can no longer be seen as a reliable indicator of the health and scale of Christian faith. There is a decline in Christian faith in Britain, but it is considerably smaller than previously assumed.'
Some respondents felt traditional church services were out of touch with society, while many felt that taking instruction from one person was 'incongruous' in today's world. Others said they no longer wanted to attend due to the formal nature of church services.
Moderator of the Church of Scotland's General Assembly, Rt Rev Dr Angus Morrison, said: 'As a Church we have to take heed of these findings; something we are already doing by investing money and resources in our pioneer ministry programme, which is bringing our Church into the wider community.'