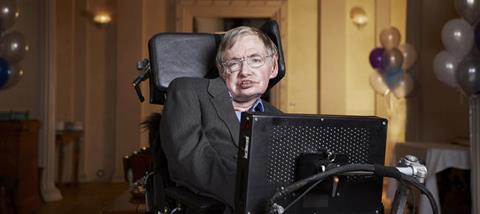 It was one of those mind-blowing moments gifted to students when we have direct access to the great thinkers of our times.
The speaker at the Cambridge mathematical physics seminar sat hunched in his wheelchair, a PhD student of his assisting with the acetate slides on the overhead projector (this was 1987 after all).
The robotic voice that even then Stephen Hawking had to use accompanied the appearance of a slide of mathematics that was clearly a version of quantum mechanics' fundamental 'Schrödinger Equation' – but with an enormous 'Psi' character for the wave function.
'….Consider Psi….The…wavefunction….of….the….Universe…'
I reeled mentally, my mind unable to catch up with the cosmic change of perspective that it was being asked to follow. This was the equation used, in my experience, for systems like single electrons; now we were being asked, even casually, to apply it in one go to the entire universe!
But this was typical of Steven Hawking's capacity to think on a vast canvas and in ways that others had not even imagined, making connections that others had never seen.
Most of his physics orbited around the extraordinary objects we call 'black holes' – the collapsed remains of dead heavy stars whose gravity is so strong that even light is unable to escape from them. His imagination reached though the 'event horizons' of the black holes to the weird points inside them where space-time breaks down, he wrestled with the problem of the apparent disappearance of information from the universe (that was the big Psi thing it turned out), and predicted the holes' strange 'Hawking radiation' by connecting two of Einstein's great loves – the gravitational curvature of space and the thermodynamics of heat – with one of his great loathings: the weird unpredictability of quantum mechanics.
No wonder that he used, in his best seller A Brief History of Time, the metaphor of the 'mind of God' when trying to describe the ultimate goal of understanding reality: "If we discover a complete theory, it would be the ultimate triumph of reason – for then we should know the mind of God."
Hawking was clear time and again that he found the 'case for a Creator' unconvincing
But it was always a metaphor for him. Hawking was clear time and again that he found the 'case for a Creator' unconvincing, but the reason for that seems to have never moved from a failure of that otherwise all-seeing mind to see beyond physics itself.
His conclusion that we do not 'need God to light the blue touch paper of the Big Bang' is not contested in terms of physics. But 'why there is something rather than nothing' is not a physics question – it lies in the theological realm to which, in spite of many thoughtful Christian correspondents over the years, including former archbishop Rowan Williams and Oxford mathematician John Lennox, Hawking seemed to remain impervious.
While we may sorrow over Hawking's rejection of God, the Creator who is and loves and gives – rather than just 'explains', we may nevertheless be thankful to that God for the gift of one who articulated, even in unbelief, that our biblical calling is indeed to know God's mind, to look into nature with the same love and insight as its creator, and to live with courage using the gifts we have rather than surrendering to our incapacities.
Tom McLeish is Professor of Natural Philosophy at the University of York
Click here for a free sample copy of Premier Christianity magazine