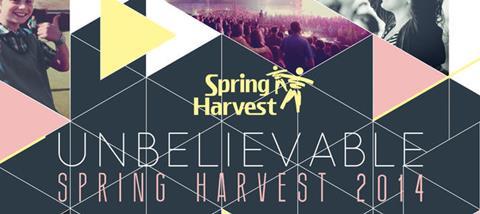 Ten per cent of gifts at the Minehead and Skegness holiday and teaching weeks will be donated, but the remaining 90% will be used to help meet the financial challenges of running the event.
Spring Harvest has raised more than £10m for charities in the last 20 years. The exact amount raised this year had not been confirmed when Premier Christianity went to press, but it is thought to be in excess of £200,000.
In the mid-1990s more than 70,000 people attended Spring Harvest. In recent years the event has contracted, with three weeks available at Minehead and only one at Skegness. Attendance at the two venues this year was around 19,000, broadly similar to last year's figure.
Interviewed for Premier Christian Radio, spokeswoman Abby Guinness said: 'This is not a permanent change of policy; at the moment it's just a one-year plan.' She said of Spring Harvest: 'We believe passionately that the Church needs it, it's good for the Church and we want to keep running it.'
However, she acknowledged: 'People can't afford to spend a huge amount on coming, prices are already quite high and we don't want to raise them.'
She added: 'God's got more for us in the future. We're confident that he has a job for us to do, so we want to be able to invest in that.'
Other Spring Harvest initiatives include a resourcing event for children's workers, NEOS, a new 24-hour worship event, The Pursuit, and Youthwork the Conference. A bursary scheme to enable low-income guests to attend will also be funded.